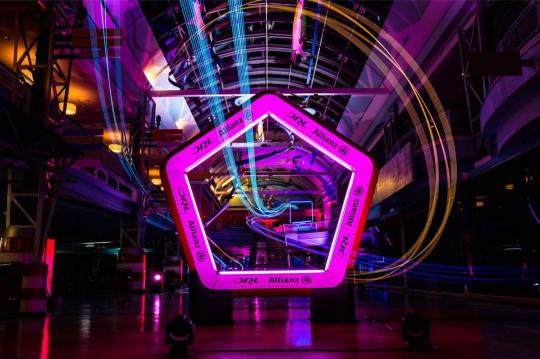 A futuristic multidimensional track for drone racing with neon obstacles. (Photo provided to China Daily)
Local brands set to benefit as online video streaming platforms bring futuristic sport to fast-growing fan base in China
Imagine a drone going from zero to 100 kilometers per hour in less than two seconds and flying at speeds of up to 220 km/h around a futuristic multidimensional track with neon obstacles. This is not a dream, but the reality of drone racing, a new sport favored by young players.
Combining the thrill of Star Wars' pod-racing and Formula 1, the Drone Racing League, the global professional circuit for drone racing, brings the fun and fierce competition of the futuristic sport to millions of fans in China via online video streaming platform Youku.
The two parties inked a three-year partnership to push DRL in China in late February, and Youku will begin airing professional drone racing in the country for the first time, premiering DRL's thrilling 2016-2018 Allianz World Championship Seasons.
Drones have been revolutionizing the entertainment industry through aerial photography and cinematography, and they are now becoming a source of entertainment themselves with drone racing, said Nicholas Horbaczewski, CEO and founder of DRL, in an exclusive interview with China Daily.
"We take the most elite pilots and put them head-to-head on video game inspired 3D courses that travel through iconic locations like palaces, museums and stadiums," said Horbaczewski.