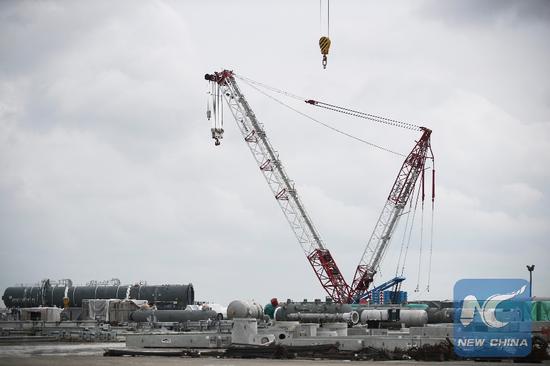 Photo taken on Feb. 28, 2019 shows the construction site of Yuhuang's methanol project in St. James Parish, Louisiana, the United States. (Xinhua/Wang Ying)
Deep into St. James Parish, U.S. state of Louisiana, hundreds of construction workers are busy working on framed structures and installing giant equipment.
The 1,300-acre site on the west side of the Mississippi River will be home to a mega methanol production facility.
Yuhuang Chemical Industries Inc. (YCI), a subsidiary of China's Shandong Yuhuang Chemical, is constructing a 1.85-billion-dollar methanol plant here.
The project is one of the largest greenfield foreign direct investment (FDI) by a Chinese company in the United States. It was announced in 2014 and started construction in January 2017.
The plant facility is expected to start commercial production in mid-2020, following the completion of the first-phase YCI Methanol One.
YCI Methanol One will have a capacity of producing approximately 1.7 million metric tons of methanol per year, according to the company.
"With a productive capacity of about 5,000 metric tons every day, we aim to build a world-class methanol plant," Charlie Yao, CEO of YCI Methanol One, told Xinhua in a recent interview.
Despite various challenges, Yao said the project has made significant milestones over the past year.
"One of the largest one is that we have formed strategic alliance with the Koch Industries," said Yao.
Last August, Koch Methanol, an affiliate of Koch Industries, announced to buy into YCI's methanol production facility in Louisiana.
According to the joint agreement, Koch Methanol has acquired an indirect minority equity interest in YCI Methanol One, LLC.
"Koch Methanol seeks to build long-term, mutually beneficial relationships and this investment is a good example of the opportunities we look for and we're very excited to continue to build and grow this relationship," said Jim Sorlie, senior vice president with Koch Methanol.
Methanol is used in the manufacturing of countless everyday products, including plywood, carpet, fuels and plastics.
As part of its investment, affiliates of Koch Methanol will receive the exclusive methanol offtake rights from the new facility, as well as construct, own, and operate the methanol terminal assets for the outbound flow of methanol.
After site clearing, excavation, backfill and finishing the foundation, the 1.85-billion-dollar methanol plant has been making significant progress in its construction these days.
"Starting from the year 2019, we're in a critical stage called moving from the below ground, which is the foundation stage, into the above ground," said Yao.
All the major equipment that has been delivered to the site will be erected in the first half of this year, he said.
Since last year, the project has made visible achievements, with major facilities such as distillation towers and power distribution building about to be finished and key production equipment rolling out at the site ready to be installed, according to Yao, and he expects more milestones to come in the near future.
"Early next year, the contractor will start to turn the unit over to YCI ownership, ready for commission, and we will train operators ready to start the production by mid of next year," he said.
There are now some 550 construction workers at the site, said the company and the peak construction employment will exceed 1,000. The plant will also include 100 permanent direct jobs during operation.
The world-scale methanol facility has been hailed by many as a sign of strengthening business ties between China and Louisiana.
In January, Shandong Yuhuang and Louisiana Economic Development (LED) were presented with the Outstanding FDI Partnership Award by the New York-based Chinese General Chamber of Commerce, the largest and most influential non-profit organization representing Chinese enterprises in the United States, with its members exceeding 1,500.
Don Pierson, secretary of LED said Yuhuang's capital investment, job creation and business purchases in Louisiana will help create a better quality of life for locals.
He also spoke highly of the Chinese companies that are represented in his state as they do not only benefit the regional economy by creating jobs and contributing to local communities, but are also responsible participants regarding safety and security around their facilities.
Chinese commerce has already been a transformative force in Louisiana's economy, with extensive trade and cross-border investment linking the two more strongly than ever, according to the LED website.