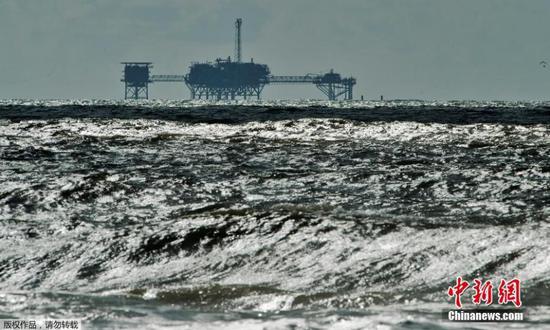 Hurricane Michael continued to strengthen Monday evening as it moved toward the Gulf of Mexico and Florida Panhandle, the National Hurricane Center said. Florida Gov. Rick Scott issued an order for a state of emergency for 26 counties in the Florida Panhandle and the Big Bend area. (Photo/Agencies)
Hurricane Michael on Tuesday afternoon intensified to Category 3 as it roared toward Florida Panhandle in southeastern United States, according to the National Hurricane Center.
Also on Tuesday afternoon, President Donald Trump approved an emergency declaration for Florida.
As of 5:00 p.m. eastern daylight time, Michael was moving north at 12 mph about 270 miles south of Apalachicola, Florida, with maximum sustained winds of 120 mph.
The hurricane was forecast to make landfall Wednesday afternoon near Panama City as a Category 3 storm.
"Hurricane Michael is forecast to be the most destructive storm to hit the Florida Panhandle in decades," Governor Rick Scott said earlier on Tuesday, "It will be life-threatening and extremely dangerous. You cannot hide from this storm."
The governor has declared a state of emergency for 35 counties across the state. More than 100,000 people in Florida were ordered out of a long swath of low-lying communities, including many in Bay County, home of Panama City.
Michael could cause erosion at the base of sand dunes along three-fourths of Florida Panhandle beaches, the U.S. Geological Service said.
Alabama Governor Kay Ivey also issued a state of emergency on Monday in anticipation of widespread power outages, wind damage and debris produced by high winds. In Georgia, Governor Nathan Deal declared a preemptive state of emergency for 92 counties, according to a USA Today report.
More than 6 million residents in Florida were forced to evacuate last year ahead of Hurricane Irma's landfall, which flooded multiple cities while left millions without power. The repair bill came in at more than 60 billion dollars, ranking Irma one of the costliest storms in U.S. history, said the report.