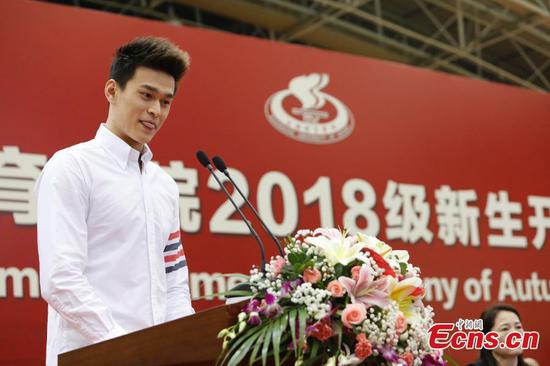 Chinese swimmer Sun Yang makes a speech at the opening ceremony of autumn semester at Shanghai University of Sport in Shanghai, Sept. 19, 2018. Triple Olympic champion Sun Yang is now back to school to take a PhD program, with a major in kinesiology. (Photo: China News Service/Yin Liqin)
Three-time Olympic champion Sun Yang is looking to add to his resume outside of the swimming pool as he enrolled at the Shanghai University of Sport on Wednesday to become a Ph.D. candidate.
The world record holding swimmer took time to speak at the opening ceremony for freshmen.
In his speech, Sun emphasized the importance of working hard at school and personal responsibility. Sun's sense of humor also drew laughs from the crowd of new students.
Sun's Ph.D. will be in sports and human sciences and he was top of the applicants in his interview.
Sun is the first male swimmer in history to earn Olympic and World Championship gold medals at every freestyle distance from the 200 to 1500 meters.
As a three-time Olympic gold medalist and nine-time world champion, he is the most decorated Chinese swimmer of all time.