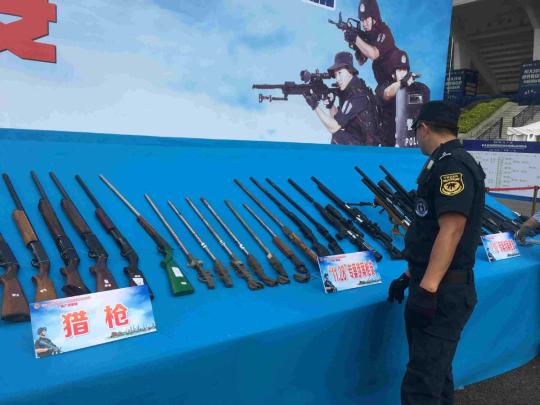 A policeman looks at guns seized in recent years at a ceremony in Guangzhou, South China's Guangdong province, on Sept 20, 2018. (Photo by Zheng Caixiong / chinadaily.com.cn)
More than 6,000 firearms have been destroyed by melting at the Shaoguan Steelworks in the northern part of Guangdong province after a ceremony in Guangzhou, the provincial capital, on Thursday.
Peng Hui, deputy director-general of the Guangdong Provincial Department of Public Security, said the centralized destruction of the 6,434 firearms demonstrated the police's determination to fight against gun and related crimes in the southern province.
"Guangdong police have zero tolerance on gun and related crimes, and more special campaigns and operations will be launched to fight against the crimes in the months to come," Peng said.
The weapons destroyed on Thursday were seized following the busting of major gun and related cases in the province in recent years, he added.
Those present at the ceremony at Guangzhou Tianhe Sports Center on Thursday morning included Li Chunsheng, vice-governor of Guangdong and director-general of its Department of Public Security, and senior police officers, judges, public procurators and officials from the central, provincial and city governments.
Statistics released by the department show Guangdong has seized 4,755 firearms, 24.47 metric tons of explosives, 36,797 detonators and 18,664 controlled knives since February.
Police across the province have detained 894 suspects after cracking down on 456 gun-related cases since February, Peng said. They had busted 35 gangs involved with guns between February and Sept 19, he added, and swooped on 38 of their dens.