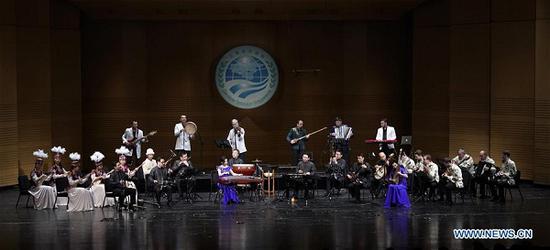 Musicians play Chinese folk music at the Shanghai Cooperation Organization (SCO) Art Festival in Beijing, capital of China, May 30, 2018. The festival opened here on Wednesday and will last until Friday. (Xinhua/Shen Bohan)
Special: SCOQingdaoSummit
(ECNS) -- The Shanghai Cooperation Organization (SCO) art festival kicked off in Beijing Wednesday.
The opening ceremony of the festival, hosted by China's Ministry of Culture and Tourism, was held along with a folk music concert at Beijing Poly Theater.
The concert included performances by well-known folk orchestras from China, Kyrgyzstan, Russia, and Uzbekistan, attracting more than 1,000 viewers.
A folk dance variety show, part of the festival, will be staged on June 1. A diverse range of interactive events and photography exhibitions will also be held.
The festival is an important artistic platform to showcase the fine cultures of all member countries, as well as enhance traditional friendships and promote people-to-people exchanges, Luo Shugang, Minister of Culture and Tourism, said at the opening ceremony.
Founded in 2005, the SCO Art Festival brings together arts and artists from all participating countries with the joint support of member states.
The festival will last until Friday.
The SCO summit is scheduled for June 9 to 10 in Qingdao, a coastal city in east China's Shandong Province.