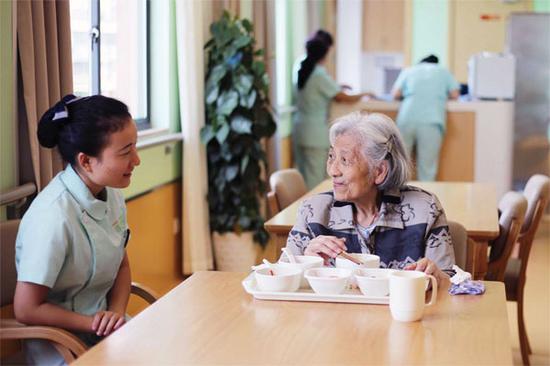 aa
虚拟养老院
(xūnǐ yǎnglǎoyuàn)
Virtual nursing home
Chengguan district in Lanzhou, Gansu province, has launched a new type of home care service for the elderly called "virtual nursing homes".
Unlike traditional nursing homes, the virtual nursing homes do not provide beds but only home care services such as cleaning and cooking for senior citizens. When elderly residents call the service hotline, operators can see their location and arrange for service staff to go to their homes and provide the services they need.
According to the director of Chengguan district virtual nursing home, all residents in the district above the age of 65 can register in their local communities to join the virtual nursing home and enjoy standardized and professional home care services in a convenient way.
The international standard for an aging society is one in which people above the age of 60 account for 10 percent of the region's overall population. At present there are 200,000 residents aged 60 or above in Chengguan district, which account for 20 percent of the overall population.
Lanzhou was identified as a pilot city for the comprehensive reform of the national old-age care services in 2017.