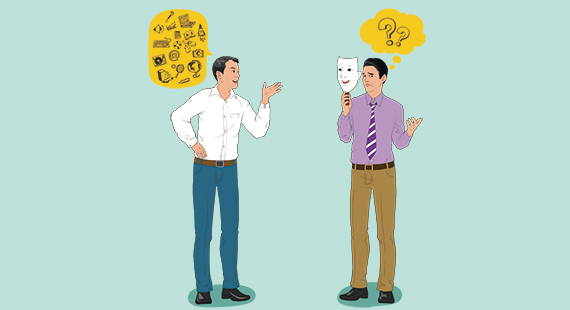 Recently, all my friends started talking about Harry Potter—again. That's really a bad news for me; I'm not a fan. I haven't seen the movies, and I didn't read any of the books. So, obviously, as they bang on about imaginary children and their amazing magic, I feel a trifle isolated. The adult thing to do would be to sit there and wait until a topic of interest to me pops up in conversation or perhaps just learn more about the interests of my friends, but no one does that. As they natter on incessantly all I really want to say is "Pay attention to me!" In a situation like this, you must pacify the mob mentality in your head with fake ideas and opinions—become the social animal, particularly, the lemming. But, it takes a bit of skill to master this delicate art in Chinese.
Let's take Harry Potter and the various Potterphiles as our first example. So, you didn't watch the movie or read the books, but, obviously, you know the films were adapted from the books. This versatile nugget should be of use:
I don't think the movie is as good as the novel.
Wǒ juéde diànyǐng méiyǒu yuánzhù xiǎoshuō hǎokàn.
我觉得电影没有原著小说好看.
Ah, the conversational equivalent of a garnish next to a steak. It's very safe. Face it, no true fan of any genre would honestly choose the films over the books. Of course, you can't exactly add much more than this to the conversation, so be astute and let the herd give you some clues.
A: I am a fan of the novels but didn't watch the movies. How did you like the adaptation?
Wǒ shì gè yuánzhùdǎng, diànyǐng hái méikàn. Gǎibiān de zěnmeyàng?
我是个原著党,电影还没看.改编得怎么样?
B: It's not bad. But they added a new romantic role to the story. I think it's a little boring.
Wǒ juéde hái búcuò. Dànshì xīn jiāle yí gè juésè fùzé tán liàn'ài, gǎnjué yǒudiǎnr wúliáo.
我觉得还不错.但是新加了一个角色负责谈恋爱,感觉有点儿无聊.
A: Oh, they did that again. Why do directors love romance so much?
Ò, yòu lài le. Dǎoyǎn zěnme nàme xǐhuān pāi gǎnqíngxì ne?
哦,又来了.导演怎么那么喜欢拍感情戏呢?
In some cases, it is just an original movie, so you have to be smart enough to swerve the conversation—into a tree if necessary. The best fodder for this is usually just talking about the actors and actresses. Even basic knowledge of their appearance will steer you through the conversation.
A: Harry Potter (Daniel Radcliffe) didn't age very well.