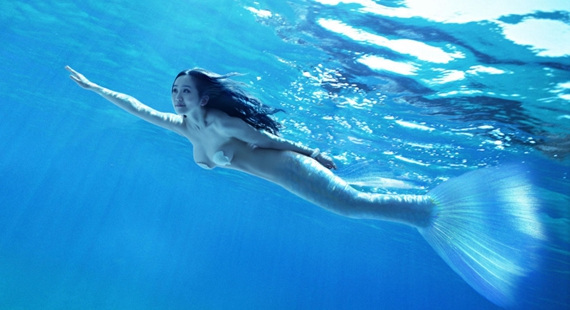 The Little Mermaid, fairy tale from Danish author Hans Christian Andersen, has fascinated almost all children. We marvelled at her mysterious beauty and brave love, and felt heart-broken when she dissolved into foam. But perhaps you were not aware of the legendary aquatic creatures that also exist in Chinese folklore.
The Chinese mermaid is called "鲛人 (jiāorén)". Their appearance is the same as in western tales, but in addition to their beautiful appearance, the Chinese mermaids are also outstanding craftswomen.
According to In Search of the Supernatural 《搜神记》, a compilation of legends about ghosts and spirits, whose author Gan Bao was believed to have lived in the 4th century, Chinese mermaids lived in the South Sea, spent their days weaving cloth, and if she cried, her tears would turn into pearls (泣泪成珠, qì lèi chéng zhū).
In the Tales of the Marvellous《述异记》, commonly ascribed to Ren Fang (460—508), the description of weaving cloth was more detailed. It was said the cloth produced by Chinese mermaids were called "蛟绡纱 (jiāo xiāo shā)", or "Dragon Yarn". It was as beautifully white as frost and could never become wet, even in water. Some other legends say that Chinese mermaids sell Dragon Yarn to people, and the market where they trade is the mirage that mortal people see.
Though Dragon Yarn was just a mythological cloth, it frequently appeared in ancient poems referring to exquisite cloths, or handkerchiefs. A famous line written by Lu You, a poet in the Song Dynasty, said "The handkerchief made of Dragon Yarn was drenched by her tears (泪痕红悒鲛绡透)", depicting a heart-broken woman who met her ex-husband where they used to live.
But tears also had another magical use. According to the Naturalis Historia《博物志》—a book that includes geography, medical history, wild animals, and mythologies written by Zhang Hua (232-300) in the Jin Dynasty—a Chinese Mermaid came out from the water and lived with a human family for many days, where she wove and sold cloth.
The mermaid was very grateful to her host. When she was leaving, she asked for a container, and wept tears into it. As soon as the container was full, all her teardrops became twinkling pearls. The mermaid then gave the container full of pearls to the host as a farewell gift.
Perhaps it is just because the fame of Chinese mermaids is largely due to her tears, in literary works they often serve as a tragic artistic figure, lonely, mysterious, emotional, who often makes sacrifices for love but rarely has a happy ending, just as Andersen's Little Mermaid does.
Cover image from xinhuanet.com.
Article by Sun Jiahui (孙佳慧)