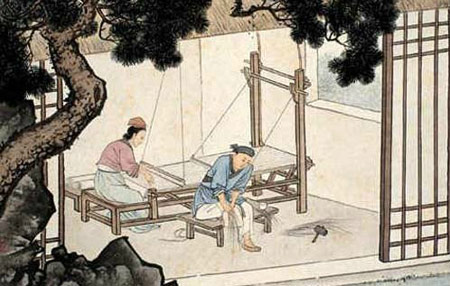 As with all the great Chinese Love stories, this one starts with forbidden love and ends tragically. The legend of Dong Yong and the Seventh Fairy (董永与七仙女 ) is a widely known love story between a goddess and a mortal.
Once there lived a very poor family, with just a father and his son. They worked day and night in the field just to earn enough for rent and a little food. One year a brutal drought destroyed the land, and sick with sorrow, the father passed away, leaving no inheritance for the son.
The boy, Dong Yong (董永), was honest and very kindhearted, and all he wanted to do was give his beloved father a proper funeral, but he had no money at all. The impoverished little scholar effectively sold himself into slavery to pay for his father's funeral. Three days after the funeral ended he started working day and night to pay off his debt.
One day, as he took a moment of respite under a tree, a beautiful maiden approached him and asked why he was working so hard with so little rest. Dong Yong told the girl why he worked so hard for such a pitiless landlord, and burst into tears.
The maiden had a story of her own as well – she said her mother had died when she was young and her father had remarried, and now her new stepmother wanted to marry her off to someone. She then burst into tears as well. Dong Yong, unsurprisingly, had a novel solution – he suggested they get married, because neither of them had anywhere to go, and neither of them had any family left. He said that perhaps these two strangers could help each other heal their wounds. From that moment on, the sorrow that loomed in their hearts drifted away, and they asked the spirits of the earth to marry them then and there.
The newly wedded husband and wife started working together for the landlord, but he had his conditions. The couple had to weave ten items of cloth each night, and they agreed.