Yin Dynasty Ruin in Anyang, the footprint of the Shang Dynasty
2013-11-04 14:54
cits.net
Web Editor: Wang YuXia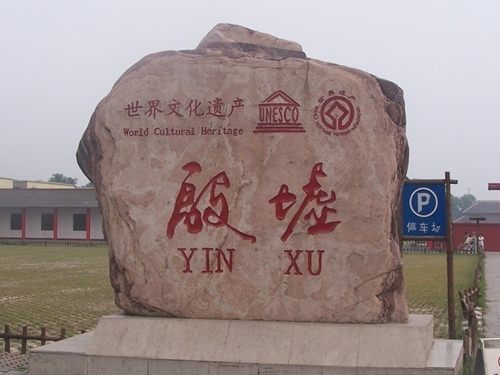 Yin Dynasty Ruin (called Yinxu in Chinese) is the ruins of the last capital of China's Shang Dynasty (1766 BC - 1050 BC). Located in Anyang, Henan Province, Yin Dynasty Ruin is about 6 kilometers in length and 5 kilometers in width. The total site covers an area of 30,000 square kilometers. The ruin is one of the oldest and largest archaeological sites in China, and has been listed as a UNESCO World Heritage Site, and oracle bone inscriptions and bronze wares discovered in the ruins are of great value in studying China's ancient history.
More than 50 buildings in the area are divided into three parts – palaces, temples and altars. A lot of oracle bone inscriptions were discovered in the palaces area, together with amount of bronze wares, jade wares, and jewelry. The majestic palaces, ancestral temples, royal tombs are arranged strictly in levels. Other areas are still not excavated.
Fuhao Tomb excavated in 1976 is the only completely preserved imperial tomb from the Shang Dynasty. Fuhao Temple was built to honor Fuhao, the earliest female general in ancient China. About 1,928 exquisite and sophisticated relics were buried with Fuhao. The Fuhao Jade Statue, carved in Fuhao's image, guards the front of the temple. Fuhao Tomb is located south-west to Yin Dynasty Ruin.
Oracle Bone Pit (also called the YH127 Oracle Bones Cellar) discovered in June 1936 is a real treasure excavated in the ruin. There are more than 10,000 pieces of oracles bones excavated. Tourists could also visit the Stele Corridor of Oracle Bone Inscriptions, which is called the dictionary of the Shang Dynasty. Carved on the walls in a long corridor, each stele marks a character of the Shang Dynasty, which is imitated from the oracle bone inscriptions.
Yin Dynasty Ruin Museum located inside a palace is an underground museum preserving nearly 600 relics of Shang Dynasty. The museum is divided into 5 parts, including the Dayong Shang Exhibition Hall, Bronze Vessels Exhibition Hall, Jade Exhibition Hall, Inscriptions on Oracles Exhibition Hall and the Special Exhibition Hall.