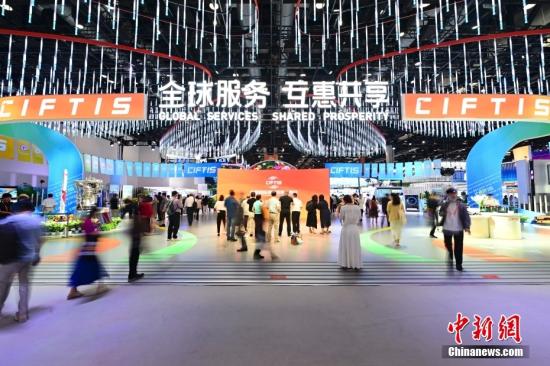 People visit the 2023 China International Fair for Trade in Services on Sept. 4, 2023. (Photo/China News Service)
(ECNS) -- The 2023 China International Fair for Trade in Services (CIFTIS) has garnered considerable attention and expanded its international reach, signaling positive developments in the Chinese economy.
Held at the Beijing National Convention Center from Saturday to Wednesday, this year's CIFTIS featured more than 2,400 offline exhibitors, representing participation from 59 countries and 24 international organizations, includingover 500 Fortune Global 500 companies and industry leaders.
Rapid growth in service trade sector
The lively scene at CIFTIS reflects the swift recovery and immense potential within the Chinese service trade sector, which has emerged as a vital engine propelling China's economic growth. Recovery is largely driven by revived offline consumer activities.
According to the Ministry of Commerce, inbound and outbound travel services stand out as the fastest-growing segments in the services trade.
Wang Shouwen, China's Vice Minister of Commerce and Representative for International Trade Negotiations, noted that during the first half of this year, the services sector contributed 56 percent to China's GDP and 66 percent to the country's economic growth. In 2022, China's total services trade volume reached $889.1 billion, ranking second globally for the ninth consecutive year.
Ongoing commitment to openness
As the world's second-largest consumer market, China has sent a clear signal regarding its commitment to accelerate high-level openness, fostering win-win cooperation that benefits both itself and the world.
In recent years, China has implemented a series of policies and measures to promote the development of trade in services. These include innovative initiatives in service and trade, deeper opening-up of the service sector, accelerated transformation and upgrading of service outsourcing, along with the construction of export bases.
Nie Pingxiang, a researcher at the International Trade and Economic Cooperation Institute of China's Ministry of Commerce, highlighted China'splan to further relax foreign investment access restrictions within the service industry. This will be achieved through comprehensive pilot demonstrations, benchmarking international high-standard institutional rules and an accelerated pace of opening up, he said.
Representatives from foreign companies attending the CIFTIS have lauded the event for its message of openness, cooperation, and mutually beneficial outcomes. As China's business environment continues to improve, the appeal of the Chinese market to foreign companies is on the rise.
Accelerated technological transformation
Official statistics reveal that in the first seven months of this year, China's total trade in services reached 3.67 trillion yuan, an increase of 8.1% year-on-year. Sectors such as construction services, telecommunications, computer, and information services have witnessed growing competitiveness, leading to an expansion of advantageous service exports.
Meanwhile, China is accelerating its economic transformation and embracing advanced technologies like artificial intelligence and big data.
This year's CIFTIS also showcases cutting-edge advancements in specialized and innovative fields, including chip technology, quantum measurement and control, satellite remote sensing, artificial intelligence, and digital healthcare.
Over 60 companies and institutions have unveiled new and independently developed products and technologies in areas like artificial intelligence, financial technology, medical and healthcare, and cultural creativity, underscoring China's economic advancement toward technological and intelligent transformation.
Sheng Qiuping, China's Vice Minister of Commerce, said the CIFTIS fully demonstrates new developments and breakthroughs in the field of trade in services, sharing new technologies and achievements. It contributes valuable insights and strength to deepen international investment cooperation, promote high-quality economic growth, and advance sustainable development.
Sheng added that China remains committed to promoting its modernization process, with a focus on high-quality development, innovation-driven strategies, and utilizing blockchain, big data, cloud computing, machine learning, as well as other advanced digital technologies. These efforts aim to foster strategic emerging industries and facilitate deep integration of the digital economy with advanced manufacturing and modern services.