(ECNS) -- Citywalk is gaining popularity this summer, with social media and short video platforms deluged with related guides and shares.
As citizens and tourists traverse through urban landmarks, tourist attractions and restaurants via slow-paced walking, a refreshing breeze is sweeping through the world of investment.
On an August Saturday, Zhu Xing, a white-collar worker in Beijing, embarked on a citywalk adventure with friends on a whim.
They started from the Lu Xun Museum in Xicheng District, passing by the White Pagoda Temple and Temple of Emperors of Successive Dynasties, finally reaching Guangji Temple.
Inside the White Pagoda Temple's cultural and creative store, Zhu picked out a refrigerator magnet, mailed postcards to friends, and savored a cup of coffee at the Lu Xun Museum.
Including lunch at a nearby restaurant and entrance fees to historical sites, the average price per person tallied around 200 yuan (approximately $27).
"Citywalk undeniably offers a cost-free sense of delight, yet I'm more than willing to pay for appealing consumption opportunities along the way," remarked Zhu.
In Beijing, the trend of citywalks centered around the White Pagoda Temple has gained considerable attention, boosting consumption in the cultural and creative store there and nearby cafes.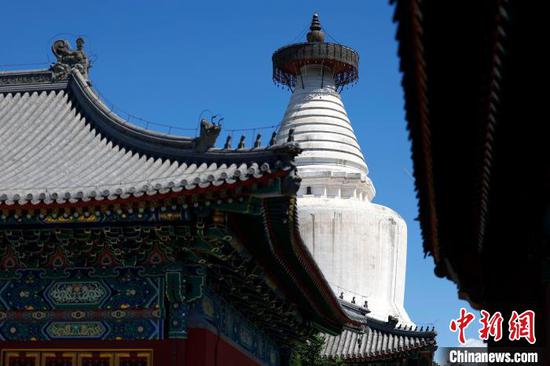 The White Pagoda Temple in Beijing. (Photo/China News Service)
Coffee shops are often fully occupied, and several newly opened or soon-to-open cafes have spotted opportunities, positioning themselves as rest stops along citywalk routes and as photo spots with a view of the White Pagoda.
Most walkers prefer routes that link local specialties, beverage shops, cultural and creative stores, bookstores and more.
Citywalkers have inadvertently opened up new consumption scenes, capturing the attention of shopkeepers, travel agencies, and others who have introduced small-scale tourism products. The cost of these products ranges from tens to over a hundred yuan, with the number of participants mostly kept below 20.
Expert guides often spearhead citywalk routes focusing on exhibitions and historical and cultural architecture, catering to the in-depth requirements of some tourists.
"In a way, this could be considered knowledge payment," one tourist said.
Compared to solo travel, these programs provide a social scene, making them particularly attractive to young people.
Ruihe, a social media influencer engaged in exhibition planning, recently led a group of 17 tourists in an offline citywalk in Beijing's 798 Art Zone.
According to Ruihe, among the participants were mechanical engineers, dentists, and high school teachers. Despite their different professions, their shared ardor for the arts fostered bonds of friendship.
The "China Travel Consumption Trends Insight White Paper (2023 Edition)," jointly released by Tencent Marketing Insight and Tongcheng Research Institute, states that "travel trends are transitioning towards relaxation, freedom, unknown surprises, and immersiveness."
Citywalks epitomize the collective demands of consumers.
Although many tourism products have emerged in response to these needs, many maintain that they are only willing to pay two-digit prices, regarding costs exceeding a hundred yuan as disproportionate.
Citywalk is still an emerging industry in China. Experts propose continual innovation and responsiveness to the diverse demands of consumers to ensure that citywalk drives the upgrade of consumption, rather than just be a short-lived trend.
Many cities in China are promoting local citywalk routes. The municipal Bureau of Culture and Tourism of Beijing, Jinan City in Shandong Province, and Xi'an City in Shaanxi Province have all rolled out their respective, recommended and free citywalk routes.
"On the one hand, Citywalks should be regarded as social activities for exploring and disseminating urban culture. On the other hand, it should showcase the city's charisma, thus promoting the recovery of the consumption market," said Lu Fengping, associate professor at Nanjing Tourism Vocational College.