(ECNS) – Data shows the China-Laos Railway has become a golden route for international logistics, Chinese Foreign Ministry spokeswoman Mao Ning said on Friday.
The China-Laos Railway has been running for 15 months, and its freight train service brings goods to countries including Laos, Thailand, Myanmar, Malaysia, Cambodia, Vietnam, Bangladesh and Singapore, Mao said at a news briefing.
The number of freight trains in operation has increased from two pairs to 12 pairs per day. The categories of goods have expanded from more than 100 early on to more than 2,000.
Lao Ambassador to China Khamphao Ernthavanh noted that the BRI turned land-locked Laos into a land-linked country, contributing to regional connectivity and mutual benefits.
The China-Laos Railway is a good example of Belt and Road Initiative (BRI) cooperation and how it benefits the participating countries, the spokeswoman said.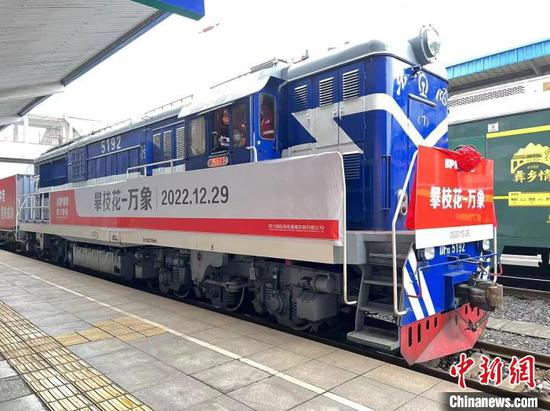 A file photo shows a freight train departs Panzhihua in Sichuan Province for Vientiane in Laos. (Photo/China News Service)
Just as Foreign Minister Qin Gang pointed out when he met the press on the margins of the two sessions, a decade of efforts since the BRI's launch have laid down a pathway toward common development, and created an array of national landmarks, livelihood projects, and milestones of cooperation, Mao added.
She believes that there will be more excellent projects resulting from high-quality Belt and Road cooperation which will boost development, improve people's lives, and generate more opportunities for countries to prosper together.