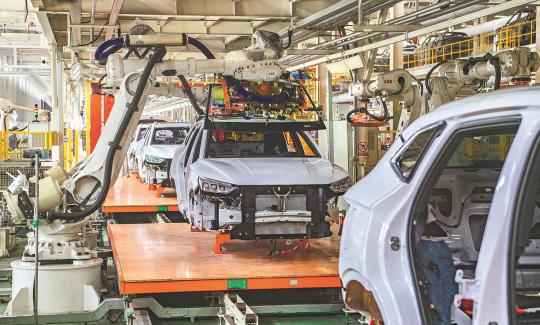 A robotic arm is in use on the production line of a carmaker in Xi'an, Shaanxi province. (Photo/China Daily)
(ECNS) -- Data shows that in this year's spring recruitment season, AI engineer has been in the top high-paying occupations, with an average monthly salary exceeding 25,000 yuan (about $3590.05).
AI technology has increasing become the attention of enterprises as ChatGPT became widely known, making job seekers of AI-related majors popular.
At a college job fair held in Beijing, graduates of AI-related majors were very popular. "I major in AI and have also learned automation-related knowledge. I want to find a job related to my major, such as intelligent sensors and control," said Zhang Zilong, who will graduate in 2023 summer.
With industrial upgrading in manufacturing, finance, medical care and other fields, the application scenarios of AI are constantly enriched, leading to the increase of demand for relevant professionals as well as the salary.
"I'm a postgraduate of AI major. I may earn 250,000 yuan or 300,000 yuan a year if I work for an internet company," said student Shi Jun.
"AI-related majors are very popular in recent years and various industries need relevant professionals," said Liu Xiaojie, a staff member who is in charge of students' employment at the University of Science and Technology Beijing.