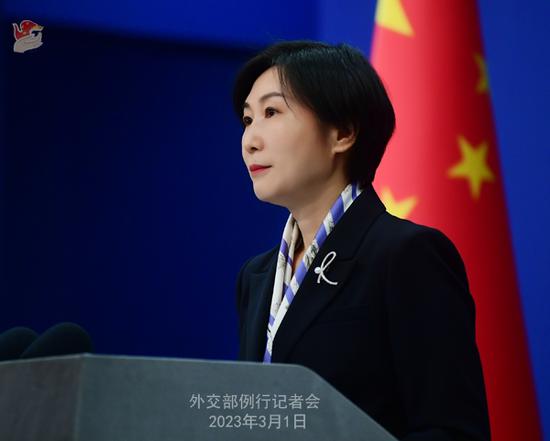 Chinese Foreign Ministry spokeswoman Mao Ning speaks at a press conference in Beijing on March 1, 2023. (Photo/fmprc.gov.cn)
(ECNS) -- Facts show that China remains a popular destination for foreign investment, Chinese Foreign Ministry spokeswoman Mao Ning said Wednesday.
Mao made the remarks at a regular press conference when asked about the prospects for foreign investors in China.
She pointed out that China has a huge market and full-fledged industrial and supply chain networks. Meanwhile, the country's relentless effort to advance high-level opening up, its support for the multilateral trading system and a market-oriented, world-class business environment governed by a sound legal framework have also made contributions to China's attractiveness to foreign investment.
"Last month saw an influx of foreign investment into China," she said. According to the spokesperson, the paid-in foreign investment reached 127.69 billion yuan (about $18.59 billion), up 14.5 percent year on year, and foreign companies including U.S. investors have been upbeat about the China market and plan to expand in China.
The total trade in goods between the U.S. and China hit a record $690.6 billion in 2022, the spokesperson said by citing the statistics from the U.S. Department of Commerce. "All this speaks to the fact that trade and investment cooperation between China and the U.S. are mutually beneficial and win-win."
"No matter how the international landscape may change, we will not waver in our resolve to open wider at a high standard and our determination to share development opportunities with the rest of the world," said Mao.
"We welcome U.S. and other foreign companies to access the Chinese market, share development dividends and work together for a stronger world economy," Mao added.