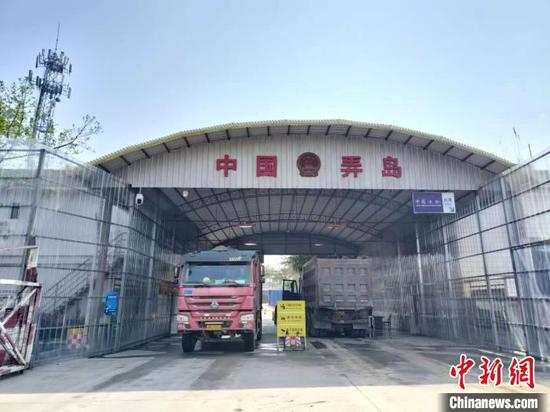 Photo shows the Nongdao border checkpoint on the China-Myanmar border in Ruili, south China's Yunnan Province. (Photo provided to China News Service)
(ECNS) -- In January and February of 2023, the import and export volume at the Nongdao passage on the China-Myanmar border in Ruili, south China's Yunnan Province, reached 80,000 tons, with the total trade volume hitting 150 million yuan (about $21.66 mln), said the Ruili entry-exit frontier inspection station on Tuesday.
The Nongdao border checkpoint and the Namhkam Township of Myanmar are neighbors across Ruili River. The Nongdao border checkpoint is an important land passage for bilateral trade.
About 200 vehicles carrying 2,600 tons of goods pass through the checkpoint every day since China downgraded its management of COVID-19 to Class B. Imported goods are mainly charcoal, silica, and sand, and exports are mainly general merchandise and fertilizers.
"It only takes five minutes to finish entry and exit formalities through early customs declaration, which greatly improves customs clearance efficiency," said Mr. Zhang, who engages in cross-border trade with Myanmar.
"It won't be long before the border trade volume will return to its peak before the COVID-19 outbreak," Zhang added.
"We are strengthening communication with the heads of import and export enterprises, and prioritizing some special or timely goods, trying our best to speed up customs clearance of freight," said Song Haiyun, head of the Nongdao border checkpoint.