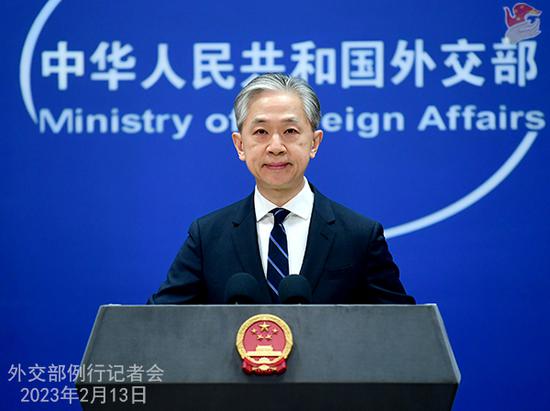 Chinese Foreign Ministry spokesman Wang Wenbin addresses a press conference in Beijing on Feb. 13, 2023. (Photo/fmprc.gov.cn)
(ECNS) -- China has always firmly opposed the U.S.'s illegal unilateral sanctions and long-arm jurisdiction against Chinese institutions, companies and individuals, said Chinese Foreign Ministry spokesperson Wang Wenbin at a regular press conference on Monday.
The spokesperson made the remarks in response to a report that the U.S. Commerce Department decided to blacklist six Chinese companies following the accidental entry of a Chinese civilian airship into U.S. airspace.
The unintended entry of China's civilian unmanned airship into the U.S. airspace is an entirely unexpected, isolated event caused by force majeure, and the Chinese side has time and again explained this to the U.S. side, yet the U.S. overreacted by abusing the use of force and escalating the situation, which is against the spirit of international law and customary practice, Wang said.
He noticed that the U.S. has been hyping up the situation and pushing the envelope by using it as an excuse to impose illegal sanctions over Chinese companies and institutions.
We will do what is necessary to defend the lawful rights and interests of Chinese companies and institutions, he added.