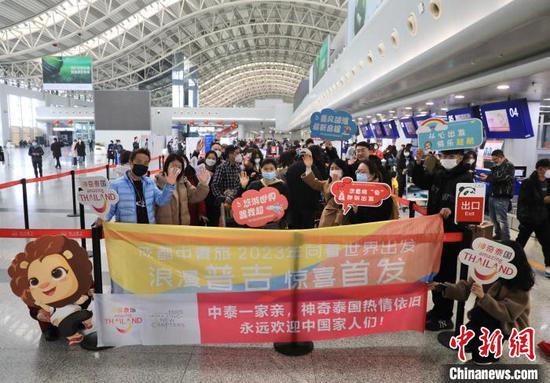 14 Chinese tourists set off forThailand, Feb. 6, 2023. (Photo/China News Service)
(ECNS) -- Rich and colorful Thai culture, along with unique festivals are some of the country's major advantages in attracting tourists from China, said Rungtip Bookkhuntod, director of Kunming Office, Tourism Authority of Thailand, on Monday.
A total of 159 Chinese tourists set off for Bangkok on Monday from Nanning Wuxu International Airport in Guangxi Zhuang Autonomous Region, with Bookkhuntod welcoming them on arrival.
Bookkhuntod said the Thai government and its tourism industry are well-prepared to welcome visitors from China.
"Thailand's infrastructure has also been upgraded. In particular, operation of the China-Laos Railway has provided another tourist route for Chinese visitors, through which they can travel to Laos and then to Nong Khai," she said.
Bookkhuntod noted that in the past three years, Thailand's ecology has been well restored, especially in the southern islands of the country, where are more beautiful than before. Its tourist police and tour guides have been constantly improving their services and learning Chinese for tourism purposes.
Thailand's tourism department constantly promotes payment methods preferred by Chinese tourists in order to make their trips in Thailand more convenient, safe and comfortable, she added.
Chinese travel agencies and online travel companies resumed pilot outbound group tours to a total of 20 countries, with Thailand included in the list.
Bookkhuntod stressed that Thailand is renowned for its considerate service and has the reputation of "a smiling country", which is also an advantage in attracting tourists. Moreover, the friendly relationship between Thailand and China has also promoted mutual exchanges between the people of both sides and boosted tourism development.
She said Guangxi and Surat Thani are sister cities, and Thailand's tourism department, together with travel agencies, will launch promotion activities for tourists who want to travel to Guangxi.