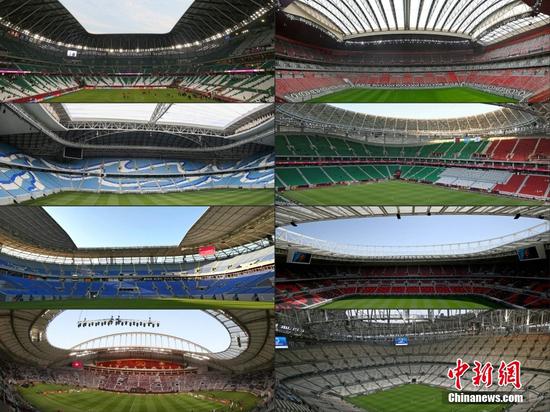 Photo shows eight stadiums serving the Qatar World Cup. (Photo/VCG)
(ECNS) -- China's smart water-saving irrigation technology has been put into operation during the Qatar World Cup, which opened on Sunday.
The technology developed by Ningxia University deployed at this year's World Cup soccer pitch utilizes wind and solar power to lift and transfer water from underground, and uses the internet of things to realize smart control of watering.
In August 2020, the university reached an agreement with the Qatari government on the technology, which has more than 30 patents in China.
Under the agreement, the university will cooperate with Qatar on projects covering food, environmental protection, and water-efficient afforestation and agriculture.
In recent years, Ningxia University has established two international joint laboratories and seven experimental demonstration bases for water-saving irrigation in Oman and Egypt. It has also trained a group of technicians for Arab countries.
Large-scale application of Ningxia's scientific and technological achievements has been realized in arid parts of Oman, United Arab Emirates, Egypt and other countries.
Related water-saving irrigation technologies have been demonstrated and popularized at more than 10 royal farms covering about 2,000 mu (about 133 hectares) in Oman. They are capable of saving about 34 percent more water than local drip irrigation.