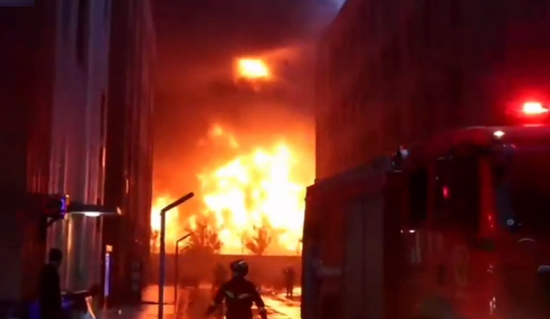 Photo shows the fire accident occurred at the plant of Kaixinda Trading Co in central China's Henan. (Screenshot Photo)
(ECNS) -- A total of 89 people have managed to escape the plant fire that happened on Monday in Anyang, central China's Henan Province, local authorities said at a press conference on Tuesday.
According to Lv Jun, an official of Anyang municipal fire rescue detachment, the local fire rescue force acted rapidly after receiving the alarm.
As of 10 a.m. local time on Tuesday, the fire was extinguished. Initial investigation determined that the accident was caused by illegal operation of electric welding, said Lv.
Four suspects believed to be behind the accident were taken into custody on Tuesday, said Gao Yong, mayor of Anyang, on Tuesday.
Comforting the families of the victims, compensation, and other remedial work will be carried out, said Cui Yuanfeng, secretary of Wenfeng District Party Committee of Anyang.