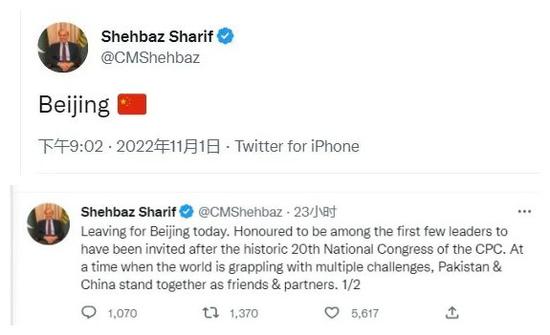 Photo shows the posts of Pakistani Prime Minister Muhammad Shehbaz Sharif. (Screenshot photo)
(ECNS) -- "At a time when the world is grappling with multiple challenges, Pakistan and China stand together as friends and partners," Pakistani Prime Minister Muhammad Shehbaz Sharif tweeted Tuesday before starting his visit to China.
Sharif expressed his expectations for the China tour on Twitter, including one post stating "Beijing" with an emoji of the Chinese national flag.
Sharif tweeted that the visit would focus on the China–Pakistan Economic Corridor (CPEC) and bilateral cooperation.
"My discussions with Chinese leadership will focus on revitalization of CPEC among many other things. 2nd phase of CPEC promises to usher in a new era of socio-economic progress that will uplift quality of our people's lives," he said.
"There is a lot to learn from the Chinese economic miracle," the prime minister added.
According to the Joint Statement between China and Pakistan on Wednesday, the two sides signed and concluded a number of agreements/MoUs, covering bilateral cooperation in areas of e-commerce, digital economy, export of agricultural product, financial cooperation, protection of cultural property, infrastructure, flood relief and more.
The prime minister is one of foreign leaders who have visited China since the 20th National Congress of the Communist Party of China concluded.