(ECNS) -- Carrying a camera, photographer Bruce Connolly has been documenting the changes in Beijing for the past 35 years.
Connolly first came to Beijing from Britain in 1987 when he began to take photos of the city, recording what he calls the "old Beijing" decades ago and the modern Beijing of today.
In his words, these photos are a record of both the story of Beijing and his life in the city.
According to Connolly, before he set foot in China, he knew very little about Beijing except for the Great Wall, Tiananmen Square, the Temple of Heaven, and a lot of bicycles, so he was very curious.
He was attracted to the city, with its amazing historical legacy of thousands of years. He was also fascinated by its layout, planned in a harmonious manner based on an axis line dating back to over 700 years ago.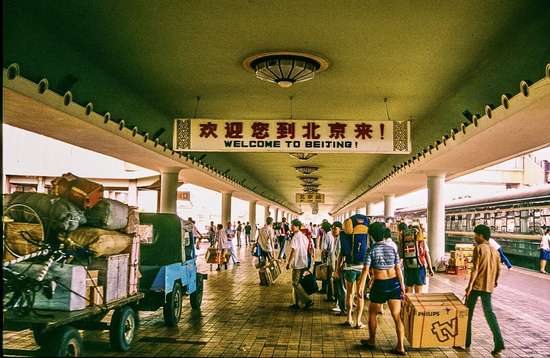 Photo shows Beijing in 1987 when Bruce Connolly first came to China. (Photo provided to Ecns)
What impressed him most were the hutongs. As a hutong lover, the photographer once lived in a Siheyuan, a Beijing-style courtyard, near today's tourist attraction Nanluoguxiang.
The hutong is the epitome of life in Beijing, said Connolly, who has taken countless photos of them. The "old Beijing people," or Beijing natives, frolicking children, the bars scattered in the hutongs, and other traditional Beijing elements inspired his creations.
Connolly knows hutongs very well, such as their layouts, doorway designs, tile colors, and even their history.
"I really love it. It is a very different Beijing, a very different China," said Connolly.
He has been gratified by these traditional hutongs, which have been well-preserved and revived in this modern era as more and more young people appreciate them.
"It's a very important legacy that we have. And thankfully, today, hutongs are now being preserved, they are looked after," said Connolly.
When talking about changes to the hutongs, Connolly said it is a mix of young and old. "Young people didn't like visiting hutongs because they said they're old, and don't represent modern China. But today, there are 'great coffee shops, great cafes, and great restaurants' in hutongs, which have attracted a lot of young people," the photographer said. "The modern part compliments the old part in Beijing."
In addition, the living conditions of hutong residents have improved, with facilities for sanitation like public toilets, and the coal for heating has been replaced, so the air quality is better than in the past, said Connolly.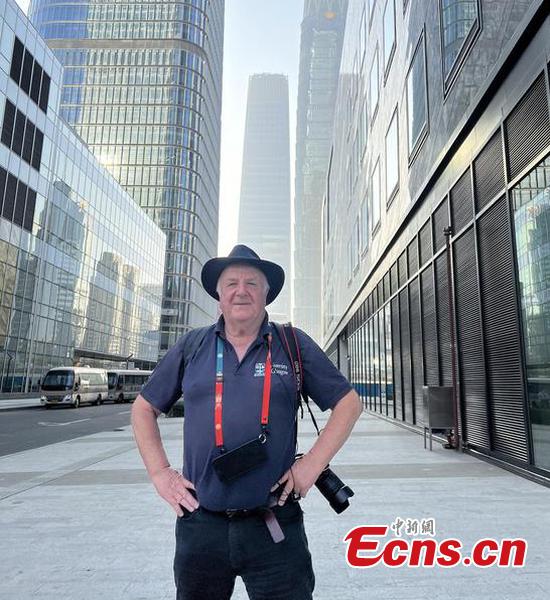 Bruce Connolly. (Photo/Ecns.cn)
He keeps recording these changes with his camera and posting them on his social media sites, trying to show people from other parts of the world what he sees here.
"I regularly take photographs here and put them on international media, talking about what Beijing is doing to these areas, how we're protecting, how we're developing and keeping these areas constantly improving, which I think is good," Connolly said.
Living in Beijing for so many years, the photographer has also witnessed the birth of the city's skyline.
Many years ago, he couldn't believe Beijing would develop into what it is today. He has taken a lot of photos of the central business district, which has provided valuable information for young people to understand the development of modern Beijing.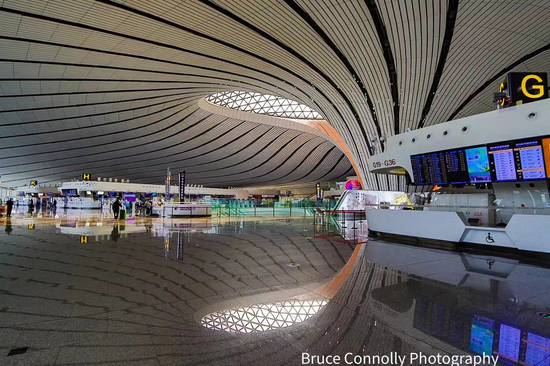 Photo shows the Daxing International Airport in Beijing. (Photo rovided to Ecns)
However, modern Beijing means more than just buildings that rise from the ground. As a train fan, Connolly is also shocked by the development of China's transportation system.
Connolly first came to China by train 35 years ago when the Flying Pigeon bicycles were everywhere in the city. The old Beijing had only two metro lines with a very cheap fare of less than one yuan. But now, the advanced metro system in Beijing allows him to travel anywhere in the city.
The development of China's high-speed rail is also incredible in Connolly's eyes. He didn't expect that China's high-speed rail would someday lead the world. In the past, there was only one railway station in Beijing, but now there are many. Traveling across China by high-speed train has come true and the 75-year-old photographer has revisited Chongqing, Tianjin and other cities by high-speed train.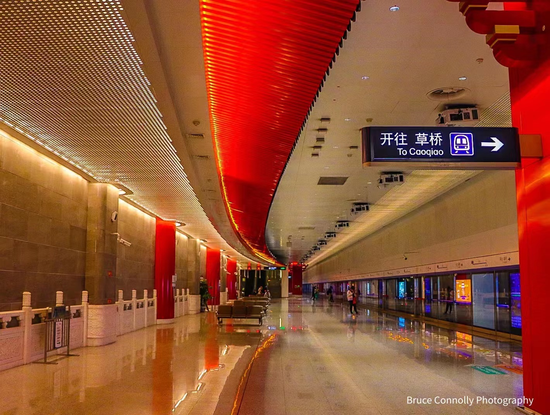 Photo shows a subway station in Beijing. (Photo provided to Ecns)
Connolly believes modern Beijing is qualified to be an international metropolis. Many Chinese people go abroad to study and travel so that they are gaining much greater knowledge of the world, while many westerners come to China, and people from all parts of the world become friends here.
Seeing such changes over the past decades, Connolly is confident in the future. "We have a very good infrastructure, we've got a lot of very intelligent people, a lot of well-educated people now. I think we should be relatively confident about the future," he said.
In the past few decades, Connolly has been sharing what he has seen in China with the world. Some of his photos were published in foreign magazines, and he also posted his photos of Beijing on his social media accounts like Facebook and LinkedIn.
He laughs at rumors that he is beautifying China. "I don't really bother, because I'm doing these photographs from the heart," said Connolly. "And I'm showing many aspects of Beijing, that there are areas that have become very beautiful."
As for the future plan, Connolly said "I hope to open an exhibition about Beijing to show the city's transformation over the past 35 years."