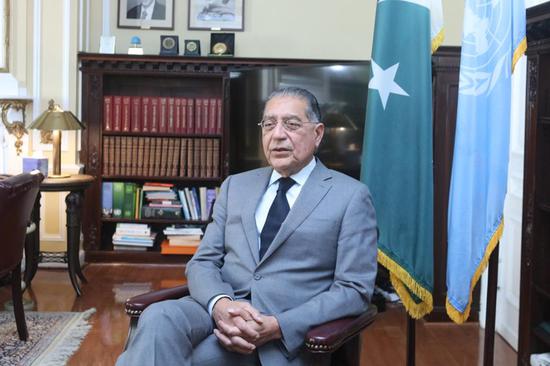 Pakistan's permanent representative to the United Nations, Munir Akram, speaks during an exclusive interview with China News Service at the Pakistan Mission to the UN, Nov. 9, 2021. (Photo: China News Service/Ma Delin)
By Wang Fan and Ma Delin
(ECNS) – China's progress of achieving prosperity is a great example and a great source of hope for many developing countries, said Pakistan's permanent representative to the United Nations Munir Akram on Tuesday.
Akram made the remarks in an exclusive interview with China News Service. He said that China has shown to the world of how one can through one's own efforts transform from a poor developing country to a modern, prosperous, technologically advanced, and strong country.
"If China can achieve what it has achieved in the last 50 years, other countries, including Pakistan, also hope they can make the same kind of achievement," the Pakistani UN ambassador said. "Many developing countries look to China to be a partner in the progress to prosperity and development."
This year marks the 50th anniversary of the restoration of the lawful seat of the People's Republic of China in the UN. When the Resolution 2758 was adopted on Oct. 25, 1971, Akram, then a junior Pakistani diplomat, was in the UN General Assembly.
Recalling the first time when the voice of the People's Republic of China was heard in the General Assembly, Akram described the speech of Mr. Qiao Guanhua on Nov. 15, 1971, as "a very honest, very frank, and very clear exposition of the foreign policy of the People's Republic of China."
Qiao was then China's vice foreign minister and head of the Chinese delegation to the UN. "It was quite revealing for many delegations who did not know China and who did not have relations with China at that time," Akram said. "It made a great impact on the General Assembly, and I think it led to the wide acceptance of the People's Republic of China in a very short time."
"As you know, on the night when the Resolution 2758 was adopted, China was not present. The Chinese delegation of the People's Republic of China was not present in the hall," Akram said. "The Chinese delegation reached New York a few weeks later. It was then that we had the first discussion."
Noting that Pakistani and Chinese delegations had very good interactions since then, Akram said the close cooperation established between Pakistan and China in the UN is maintained until today.
In the decades of his career, Akram has about 30 years of work experience pertinent to the UN. He said that China is one of the key members of the UN and the role it plays has evolved into "the leadership role, the role of example, and the guide and help to developing countries."
"China's cooperation supported developing countries both bilaterally and multilaterally," Akram said. "This is the role which China is playing, and we continue to hope that this role will be even larger and stronger in the years to come."