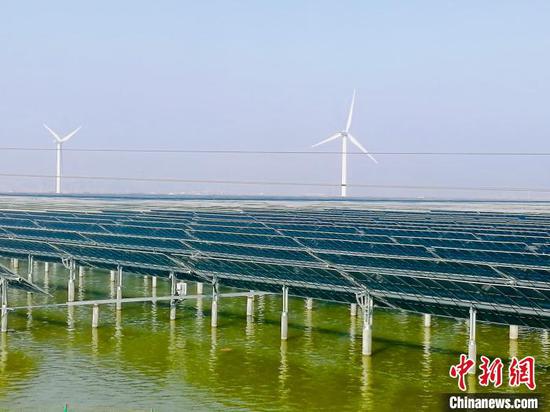 File photo shows the wind power plant and photovoltaic power station in north China's Hebei Province. (Photo:China News Service/Liu Hongliang)
(ECNS) -- China's GreenTech company Envision Group and venture capital firm Sequoia Capital China on Monday announced they would jointly set up a carbon-neutral technology fund worth 10 billion yuan (about $1.52 billion).
The fund will invest in and nurture leading technology companies in the global carbon-neutral field and build a new zero-carbon industrial system.
"Global carbon neutrality will usher in not only an energy revolution, but also a new industrial revolution," said Zhang Lei, CEO of Envision Group.
It will promote the construction of a new green industrial system to create a better world for mankind, he added.
The fund was set up to explore more normalized and systematic innovative low-carbon solutions together, said Neil Shen, founding and managing partner of Sequoia Capital China, adding he hopes more entrepreneurs and start-up owners would participate in the construction of a new low-carbon green industrial ecology.
Envision Group has helped develop smart wind turbines, power batteries and energy storage, intelligent Internet of Things, smart cities and other businesses, while Sequoia Capital China continues to invest in new energy, electric transportation, building energy conservation and accelerate research and development and implementation of carbon-neutral innovative technology.
Both sides stressed they would foster an innovative ecology through industrial fund investment and accelerate the formation of carbon-neutral technologies and industrial chains to promote global zero-carbon transformation.