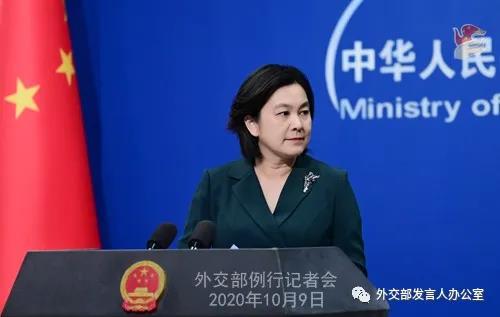 (ECNS)--China urges the United States to stop slandering Beijing, and make real contributions to protecting the global environment instead of creating trouble, Foreign Ministry spokesperson Hua Chunying said Friday.
The remarks of FM spokesperson Hua Chunying ran as follows.
Xinhua News Agency: Recently, the U.S. has publicly accused China of "environment abuses" on many occasions. What is the foreign ministry's response?
Hua Chunying: Besides the pandemic, Xinjiang and Hong Kong, the U.S. has lately started groundlessly criticizing China on environmental issues. I wonder where it got the confidence to feel it's in a position to launch such intensive and malicious attacks against China?
The Chinese government attaches great importance to ecological and environmental protection. It has made resource conservation and environmental protection a basic state policy and sustainable development a national strategy. It has earnestly fulfilled its obligations under international environmental treaties on climate change, biodiversity governance, ozone layer protection and chemical pollution prevention and control with remarkable results.
China is committed to emissions reduction. By the end of 2019, China's carbon dioxide emissions per unit of GDP had dropped 48.1 percent from the 2005 level, and the share of non-fossil fuels had reached 15.3 percent. China has already met and exceeded its 2020 climate action target ahead of schedule. Investment in renewable energy has exceeded $100 billion for five consecutive years, and the number of new energy vehicles accounts for more than half of the world's total. China has announced that it will increase its intended nationally determined contribution (INDC), aim to have its CO2 emissions peak by 2030, and strive to achieve carbon neutrality by 2060.
China has made important contributions to the development of global forest resources, sustainable forest products and trade. From 2009 to 2019, China completed afforestation of 70.39 million hectares, the world's largest increase in forest resources in the same period. Since 2000, China has been contributing a quarter of all new green area of the world. Since the end of last century, China's desertification has shifted from an average annual expansion of 10,400 square kilometers to an average annual reduction of 2,424 square kilometers, turning the dream of "man beating back deserts" into a reality. During the holiday, many people went to Saihanba, a beautiful place that once was a barren desert. China's Kubuqi Desert was once called the "forbidden zone of life" and the "sea of death". After 30 years of unremitting efforts, it became the site of a world miracle of "desert turned into oasis", achieving the goal of zero land degradation by 2030 set by the United Nations ahead of schedule.
China is stepping up efforts to combat air pollution and improve air quality. The Ambient Air Quality Standard has been implemented in 74 cities in China. The blue sky is a clear indicator for all to see. Chinese Research Academy of Environmental Sciences and the National Institute of Environmental Research of the ROK have established a joint research working group on air quality to carry out analytical research in related fields.
China strictly manages solid and marine wastes. By the end of 2020, China will basically achieve the goal of zero import of solid waste. Nearly 99 percent of China's urban household waste goes through innocuous disposal. Our coastal cities all have garbage classification and marine sanitation mechanisms. China's marine debris is of a lower middle level in the world, which is in a controllable state.
China implements the world's most rigorous Vessel Monitoring System (VMS), and fights illegal, unreported and unregulated fishing with the international community.
China participates deeply in international exchange and cooperation in environmental-protection. It was among the first to sign and ratify the Convention on Biological Diversity (CBD). We initiated the Belt and Road Initiative International Green Development Coalition and published the Green Investment Principles. We have conducted exchange and cooperation with more than 100 countries and carried out a large number of bio-diversity projects jointly, playing a constructive role in advancing global biodiversity governance.
The Chinese people and the international community bears witness to the progress China has made in ecological protection. I believe as resident journalists in Beijing, you've all had a first-hand experience of it.
How does the U.S., who keeps blaming China, do on this regard? Its per capita emissions are three times that of the global average, more than twice, once almost five times that of China's, with accumulated emissions about three times that of China's. According to a report released in January by the Rhodium Group, the 2019 U.S. net greenhouse emissions remained slightly higher than the 2016 level, putting the U.S. at risk of missing the 17 percent reduction target it agreed to reach by 2020 under the 2009 Copenhagen Accord.
Before pointing the finger at China, the U.S. should answer these questions first. When will it pledge carbon neutrality? Why did it refuse to ratify the Kyoto Protocol? Why did it withdraw from the Paris Agreement? Shouldn't it explain itself to the people in developing countries, especially small island countries, that are severely affected by climate change? When will it pay the huge amounts of contributions it owes to the Global Environment Fund, the United Nations Convention to Combat Desertification, and the UNFCCC? What does it say about its export of large amounts of garbage to developing countries every year?
The fact is, the U.S. itself is the biggest perpetrator damaging international environmental cooperation, and the U.S. itself poses the biggest threat to the global environment. It is sorely out of political motives that it has been smearing and attacking China in this area. What it should do now is stop the malicious slanders against China, reflect upon its own behavior, assume its responsibility to the environment and make tangible contributions to the protection of global environment instead of stirring up troubles.