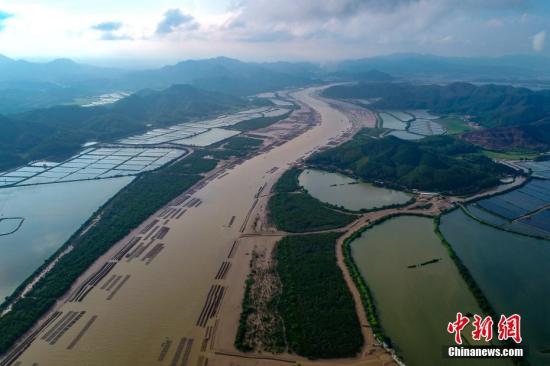 Aerial view of the national wetland park in South China's Guangdong Province, June 3, 2019. (File photo/China News Service)
(ECNS) -- The Pearl River Delta in South China's Guangdong Province is speeding up construction of a state-level forest city cluster.
China has promoted the development of forest cities in recent years to improve the urban environment through greater green coverage.
With the establishment of Guangdong-Hong Kong-Macao Greater Bay Area, nine Pearl River Delta cities have joined hands to form an environment-friendly cluster.
These cities include Guangzhou, Shenzhen, Dongguan, Zhuhai, Foshan, Zhongshan, Jiangmen, Huizhou and Zhaoqing.
Covering 55,368-square-kilometers, the cluster takes up less than a third of Guangdong Province, but is home to more than half of its population.
Pearl River Delta is China's manufacturing base, with Dongguan City known as "the world's factory". Here, ecological protection is particularly important.
In 2008, Guangzhou took the lead in building the first state-level forest city in Guangdong. Ten years later, all nine cities have become state-level equivalents.
By 2020, Dongguan had a forest coverage rate of 41.83 percent, with 20 forest parks, 23 wetland parks and 6 nature reserves.
According to Guangdong Provincial Forestry Bureau, 742 kilometers of new ecological landscape had been built across Pearl River Delta by the end of 2019, alongside over 1,500 kilometers of greenway networks, of which 990 kilometers have been upgraded.
China's first state-level forest city cluster in Pearl River Delta is expected to complete by the end of this year.