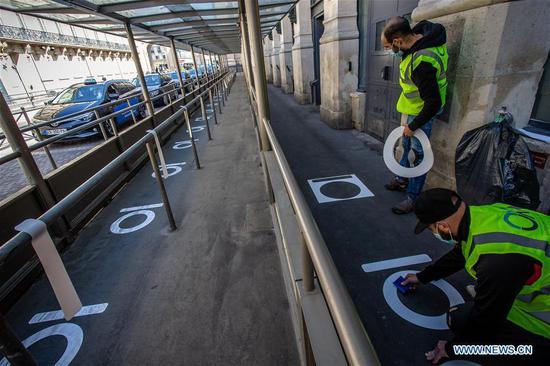 Workers put social distancing marks on the ground outside the Gare du Nord Railway Station in Paris, France, May 7, 2020. (Photo by Aurelien Morissard/Xinhua)
Special: Battle Against Novel Coronavirus
(ECNS) -- The number of confirmed novel coronavirus cases across the globe has surpassed 3.84 million as of Thursday, and the virus has claimed nearly 270,000 lives, according to the latest tally by Johns Hopkins University.
The confirmed cases in the United States have exceeded 1,256,000 and the death toll from the disease hit more than 75,000.
President Donald Trump's personal valet, not identified, has tested positive for the coronavirus, the White House confirmed Thursday.
Italy has registered more than 215,800 cases and 29,900 deaths. After a nearly two-month lockdown due to the novel coronavirus, the country began relaxing restrictions on Monday, with around 4 million workers being allowed to return to work in select sectors.
But new modeling from researchers in the United Kingdom warned that the easing of lockdown measures in Italy may lead to more people contracting COVID-19 than during the first wave of novel coronavirus in some regions of the country.
Peruvian Minister of Agriculture and Irrigation Jorge Montenegro has tested positive for the novel coronavirus disease, the ministry reported on Thursday.
South Africa on Thursday confirmed 424 new cases, bringing the total number to 8,232.
The World Health Organization has warned that between 83,000 to 190,000 people in Africa could die of COVID-19 while an additional 29 to 44 million are likely to contract the disease if containment measures fail to work.
The Chinese mainland reported one new domestically transmitted case and no new imported cases of the virus Thursday and the total number of imported cases is 1,680, the National Health Commission said on Thursday.
The total number of confirmed cases on the Chinese mainland stood at 82,886 as of Thursday, the cumulative death toll at 4,633. In addition, 854 asymptomatic patients are under medical observation.
A total of 1,529 confirmed cases have been registered in Hong Kong, Macao and Taiwan. Among them, there are 1,044 cumulative cases in Hong Kong, 45 in Macao and 440 in Taiwan.