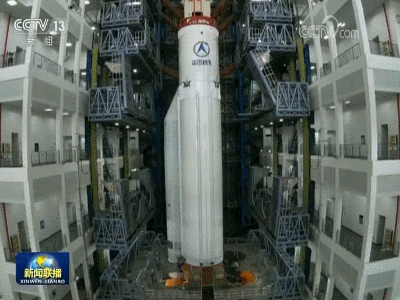 (Gif photo from CCTV)
(ECNS) -- China has completed inspection of an experimental manned spacecraft at the Wenchang Space Launch Center in Hainan province, according to the China Aerospace Science and Technology Corporation.
The experimental spacecraft is to be launched by a Long March 5B carrier rocket.
Larger than the Shenzhou spacecraft, this trial version of new-generation spacecraft was developed for future manned missions to and from the China's Space Station.
The ship features technologies such as re-entry and return control, heat protection, and recycling.
Designed with new materials and structure, its heat-resistant capacity is three to four times that of the Shenzhou spacecraft.
The launch will also test a safer "parachute plus bag" landing mode.
It is designed to carry out both low-earth orbit and deep-space exploration missions.
The developers plan to use the re-entry capsule 10 times to reduce costs.
The Long March-5B carrier rocket is a modified version of the Long March-5, currently China's largest carrier rocket, and will be mainly used for sending capsules of China's space station and large spacecraft to the low-Earth orbit.