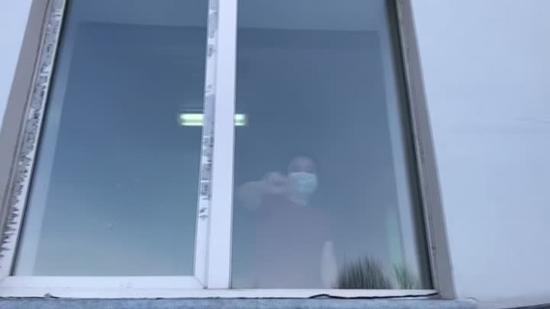 A Chinese national undergoes treatment at a Russian hospital after being diagonsed with the novel coronavirus. (File photo/video screenshot on CNSTV)
Special: Battle Against Novel Coronavirus
(ECNS) -- A Chinese national diagonsed with the novel coronavirus in Russia was discharged from hospital on Wednesday following treatment.
The man surnamed Wan said his wife and daughter are still in hospital and have been confirmed free of infection. They are scheduled to be discharged on Feb. 14.
Local epidemic prevention departments have been sent to thoroughly disinfect their home.
Wan said he plans to continue to stay in Russia.
Another Chinese national, a female student in Tyumen, was discharged from hospital on Feb. 11, Russian Deputy Prime Minister Tatyana Golikova said Tuesday.
So far, two Chinese nationals diagnosed with new coronavirus in Russia have been discharged from hospital.
Russia has provided lots of support to China in fighting against the virus since the outbreak of the epidemic.