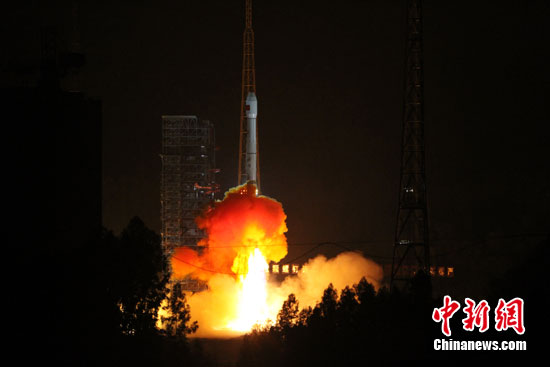 A Gaofen-4 satellite was launched into space. (File photo/China News Service)
(ECNS) -- China will share data from its Gaofen (GF) satellites free to the public on the website www.cnsageo.com, the China National Space Administration (CNSA) announced at a meeting of the Group on Earth Observations (GEO) in Canberra, Australia.
The China High-resolution Earth Observation System aims to build up an observation system based on satellites, aircraft and ground systems. Several satellites including the GF-1 and GF-6 have been launched under the system's framework.
Through the website, people can access three kinds of GF 16-meter data: a global coverage map generated with archived data, historical archived data, and 16-meter data updated daily, according to CNSA.
The shared data will support the needs of global sustainable development, disaster prevention and mitigation, and climate change adaptation, said CNSA. It also provides software for the better use of wide-field-of-view data with a swath of 800 km.
The administration said it will deepen cooperation and exchanges with GEO member countries and international organizations in the fields of data application, research, training and education amid efforts to build an ecosystem centered on GF satellites.