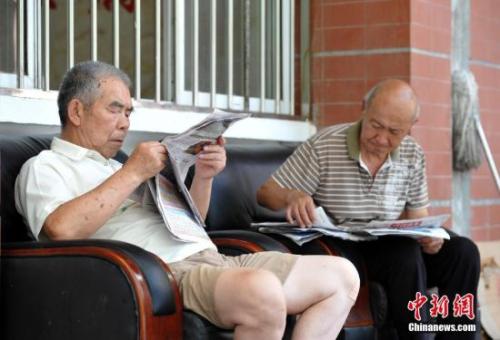 Senior people kill time by reading newspaper. (File photo/China News Service)
(ECNS) -- Individual commercial pension insurance has the potential to see explosive growth in China as the country needs to address challenges in its pension system, according to a report by McKinsey & Company in Beijing on Tuesday.
China's pension system is composed of three parts: first-level basic pension insurance, second-level enterprise and occupational annuity, and third-level individual commercial pension insurance.
The structure of China's pension system is far from being balanced and sustainable. By the end of 2017, the cumulative balance of pension funds at the National Council for Social Security Fund stood at 4.4 trillion yuan ($640 billion), accounting for 70 percent of the total. Local governments are faced with challenges of more and rapid expenditure coupled with the slow income growth of the pension funds.
Enterprise and occupational annuities contributed to pension funds of 1.6 trillion yuan, nearly 30 percent. However, enterprise annuities are mainly from large state-owned companies, so the participation rate and coverage are relatively low when considering private and small companies.
The market-oriented personal pension, the third pillar, is relatively new to be developed, so it accounts for an insignificant proportion. But there are growing diversified needs of individual commercial pension products that wait to be exploited.
The report said that China's pension system is deeply imbalanced with the dominant role of public pensions, and banks and insurance companies are expected to play increasingly important roles to reform the pension system.
Bi Qiang, the head of the insurance consulting business of McKinsey & Company in China, said regulators can promote personal commercial pensions by improving systems, offering guidance in innovation, and risk control.
Bi also said that foreign capital, along with international leading experience and ideas, will benefit the healthy development of the industry in China.