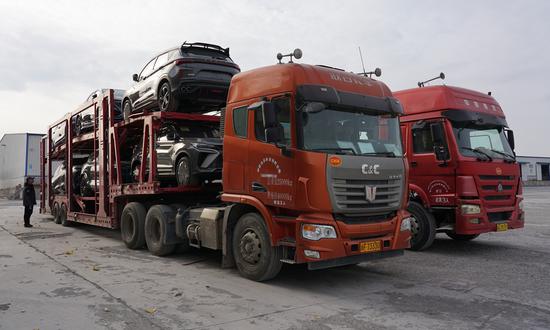 An automobile warehouse in Khorgos port, NW China's Xinjiang Uygur Autonomous Region. (Photo/Feng Fan/GT)
Special: Xinjiang
Auto vehicle exports have reached a new peak in Northwest China's Xinjiang Uygur Autonomous Region.
Khorgos Customs reported a total of 195,000 vehicle exports in the first three quarters of 2023, up 308 percent year-on-year. Khorgos is the largest land port for China's auto export. The strong growth demonstrates rising demand for Chinese automobiles from European and Central Asian market.
A total of 100,000 vehicles were exported to date this year in Xinjiang, according to data provided by Khorgos port, surpassing last year's export total of 42,000 units.
"We expect the figure to reach 120,000 units by the end of the year, accounting for 5 percent of China's total auto export," Hu Laijie, a senior official from Ili Khorgos port, told Global Times on Tuesday.
Another major port in Xinjiang also recorded a large increase of exported vehicles. From January to September this year, Alashankou port exported 82,000 vehicles, up 694.5 percent year-on-year. Among them, 81,000 units were exported by train, an increase of 718 percent year-on-year, and 1,000 vehicles were shipped by truck.
Starting from January this year, Dulata Port has facilitated over 2,000 auto vehicle exports, according to Dulata Customs.
"The port is drawing more auto export business, we expect to increase our vehicle exports to 20,000 to 30,000 units, in the years to come," Guan Cuiying, a senior official from Dulata port told the Global Times on Thursday.
"Our company has shipped over 2,000 vehicles to European and Central Asian market since April," said Gu Haifeng, general manager of a logistic company in Khorgos told Global Times on Tuesday.
Customers from Kazakhstan, Russia and Belarus are fond of buying Chinese cars, several brands, including Li Auto, Geely and Zeekr, are selling very well in those markets, Gu said.
"We started the business of exporting vehicles in July, with a transportation team of 21 trucks, and we ship over 100 vehicles to Almaty, Kazakhstan per month. By the end of the year, the company expects to add 50 more trucks as demand keeps rising", Kong Xianglin, deputy manager of a logistic company in Alashankou told Global Times.
It takes seven days to transport vehicles to Almaty from Shenzhen, four days to transport them from Shenzhen to Alashankou, and three more days to Almaty, Kong said.
China is on its way to overtake Japan as the world's largest auto exporter. From January to October this year, the export value of Chinese automobiles surged 88.5 percent year-on-year, reported Xinhua.
The country exported 1.07 million vehicles in the first three months of 2023, up 58.3 percent year-on-year, according to China's General Administration of Customs.