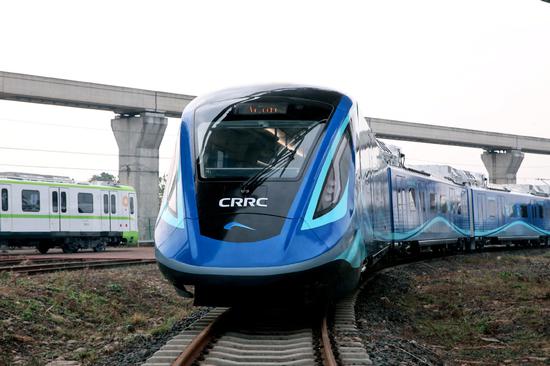 A hydrogen-powered urban train rolls off the assembly line. (Photo provided to chinadaily.com.cn)
The world's first hydrogen-powered urban train was on public display at China Brand Day, which kicked off on Wednesday in Shanghai.
The train, which was developed by the CRRC Changchun Railway Vehicles Co, consists of four carriages and is designed for a maximum speed of 160 kilometers per hour. The hydrogen-powered system can provide a strong and lasting power source for the train and achieves a driving range of 600 km.
The train also adopted the most advanced automatic driving technology, including automatic wake-up, automatic start/stop and return to the depot.
A vehicle-to-vehicle communication system optimizes the train control process and can greatly improve operating efficiency and safety.
Designers used a 5G vehicle-to-ground communication technology and big data analytics to evaluate the running train and ensure its safety.
An interior intelligent lighting system automatically adjusts brightness, depending on the outside environment.