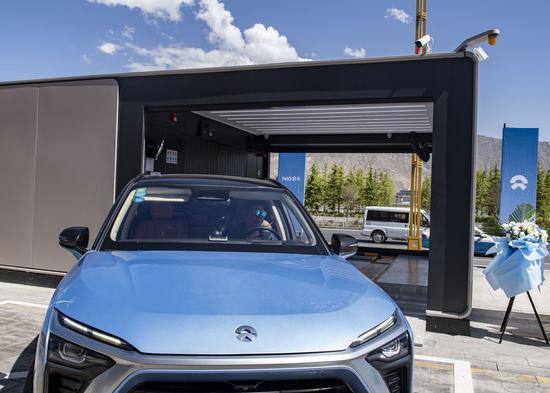 Cai Junbo from south China's Hainan Province experiences the battery-swap service at a battery-swap station in Lhasa, southwest China's Tibet Autonomous Region, July 6, 2022. (Xinhua/Lyu Qiuping)
A battery-swap station for electric cars was put into operation on Wednesday in Lhasa, capital of southwest China's Tibet Autonomous Region.
The station, which is operated by Chinese electric carmaker NIO, is the first of its kind in the region. At the station, users deposit batteries that have run low on power, taking a fully charged battery in its place.
Batteries that have run low are recharged with 100 percent clean energy generated by hydropower and solar power, according to Guo Jianxin, who works at the station.
"The battery swap takes no more than five minutes," said 48-year-old Cai Junbo, a tourist who drove to Lhasa from south China's Hainan Province and was the new station's first client. He added that it took over an hour to charge his car at other stations during his journey.
Before the launch, Tibet only had battery-swap stations for heavy-load trucks. With an average of over 3,000 sunshine hours per year, Lhasa is renowned for its abundant solar energy.
By the end of 2021, China had built 75,000 charging stations, 2.62 million charging piles, and 1,298 battery-swap stations, according to the Ministry of Industry and Information Technology.
Founded in November 2014, NIO is a pioneer in China's premium electric-vehicle market, with its global headquarters located in Shanghai and China headquarters in Hefei.