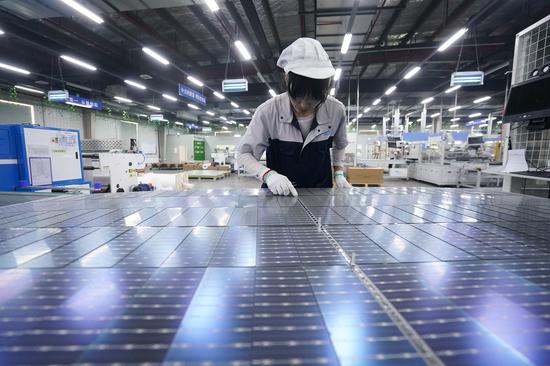 An employee checks photovoltaic panels at a production facility in Suqian, Jiangsu province, in May. (Photo/Xinhua)
Survey: Chinese startups, undaunted by challenges, sewing up growth plans
More and more expansion-minded Chinese unicorns, or startups valued at $1 billion or more, are eyeing overseas markets despite growing challenges, according to a new report from Accenture, a global professional services firm.
Eighty-two percent of 87 Chinese unicorns surveyed by Accenture said they plan to enter overseas markets within 24 months.
And 45 percent regarded overseas expansion as very important for their growth, Accenture said.
Jenny Li, head of Accenture operations in Asia-Pacific, Africa, the Middle East and Turkey, said Chinese unicorns are reaping many growth opportunities by going overseas. Many of them have already developed good businesses in Southeast Asia, Europe and other regions.
According to Li, unicorns have to figure out how to build effective overseas management teams. It is usually best for such teams to have both people from the Chinese headquarters and local talent.
It is also necessary to clarify their responsibilities and give them functional autonomy.
Accenture's report comes amid rapid growth of unicorns globally. Their numbers and valuations have been increasing significantly in recent years. For instance, the number of unicorns in China reached 137 in May, up from 43 five years ago. Nearly half of them are engaged in emerging technologies, telecommunications and internet-based business.
Accenture said amid a fluid international environment, Chinese unicorns are facing increasingly complicated overseas markets marked by growing uncertainties and rising thresholds. Specifically, unilateralism and trade protectionism have created new challenges.
Startups have also struggled to raise funds as the "good old days" of unrestrained cash-burn on customer/user acquisition via incentives, promotions and freebies are over-and the age of sustainable growth has set in.
If startups do not have technological advantages and continuous innovation capabilities, growth would prove more challenging in the future, Accenture said.
Accenture's report also found that more unicorns are now focusing on technology-driven innovations on the "B side", a reference to businesses that sell products and services directly to corporate clients and enterprises instead of individual customers or retail consumers.
Industrial supply chains, enterprise services and logistics, for example, are considered part of the B side.
Kai-Fu Lee, founder and CEO of tech venture capital firm Sinovation Ventures, said earlier that B-side innovations will make sectors like industrial automation investment hot spots.
"China is ushering in a golden wave of industrial upgrading, which is driven by technology. Thus, tech-enabled automation, intelligence and cloud computing will become the nation's core economic drivers in the coming 10 years," said Lee.
The trend coincides with the accelerated digital transformation among enterprises in China, which has spawned new demand for business-oriented technologies and services.
According to a joint study by market research company International Data Corp and the US technology giant Microsoft Corp, as Chinese companies cope with the economic fallout of COVID-19, 63 percent of local organizations said they will further speed up digitalization to ensure business resilience.