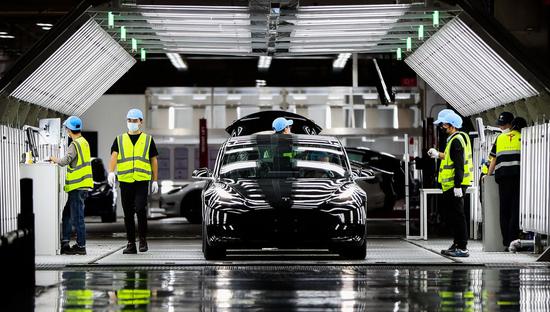 Employees put finishing touches to a vehicle at Tesla's gigafactory in Shanghai on Nov 20. (Photo/Xinhua)
New energy vehicle output will account for 35 percent of Shanghai's auto manufacturing industry and reach 350 billion yuan ($54 billion) by 2025, said a five-year action plan for the sector that was unveiled recently.
Shanghai will look to expand the annual production capacity of green cars to more than 1.2 million units by 2025 and raise the output value to 350 billion yuan, or more than 35 percent of the city's car industry value, Qiu Wenjin, deputy head of the Shanghai Municipal Development and Reform Commission said on Thursday while releasing the new energy vehicle industry development plan for the 14th Five-Year Plan period (2021-25).
"Apart from expanding the industry scale, we should make breakthroughs in core technologies, acquire leadership in research and development of key components and manufacturing, make breakthroughs in connected vehicles and intelligent technologies, and establish a complete supply chain," said Qiu.
The action plan specifies 19 key tasks in five key areas, including industrial capability enhancement, creation of an ecosystem, establishment of a green transportation energy system, development of "new infrastructure" facilities and integration of related systems and mechanisms.
Thanks to the municipal government's consistent and supportive policies for new energy vehicles, several residents have started choosing green vehicles.
More than 120,000 new energy vehicles were sold across the city last year, compared with 70,000 units in 2019. In January alone, sales of new energy cars exceeded 20,000 units, with the sales continuing to rise, said Qiu.
"After making consistent efforts in developing new energy vehicles, Shanghai has not only formed a complete new energy vehicle industry chain, but also has effectively promoted the use of green cars in the city," said Zhang Jianming, deputy director of the Shanghai Municipal Commission of Economy and Information.
In 2020, 2.65 million units of automobiles were manufactured in Shanghai, and their auto industrial production value reached 673.5 billion yuan, up 9.3 percent on a yearly basis.
The city's new energy vehicle output rose by 190 percent on a yearly basis to 238,600 units, while output value soared 170 percent to 66.4 billion yuan.
"Green vehicles have played a significant role in stabilizing automobile industry development," said Zhang.
Shanghai leads all Chinese municipal cities and provinces in new energy vehicles. By the end of last year, nearly 424,000 green vehicles were in operation in the city.