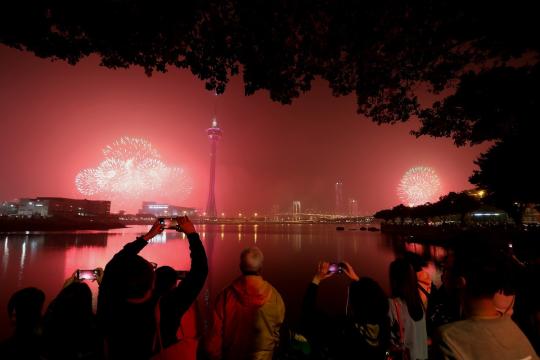 Macao and its neighboring city Zhuhai jointly held a firework show to celebrate the 20th anniversary of Macao's return to the motherland on Sunday. (Photo/China Daily)
Special: 20th Anniversary of Macao's Return to Motherland
The sky over Macao and Zhuhai was brightened by 160,000 fireworks on Sunday night.
In celebration of the 20th anniversary of Macao's return to the motherland, the special administrative region staged a grand fireworks show in front of the landmark Macao Tower and Hengqin Financial Island jointly with Zhuhai, a coastal city in South China's Guangdong province. It was the first large cultural event jointly hosted by the two neighboring cities.
During the 30-minute show which started at 9 pm, fireworks were launched from two large vessels, eight special-effects platforms and 56 unmanned surface vessels on both sides of the Sai Van Bridge of Macao.
Accompanied by music and laser lights, 600 unmanned drones formed the shapes and patterns of the Hong Kong-Zhuhai-Macao Bridge, the Ruins of St. Paul's as well as characters like "Zhuhai &Macao are one family" and "20" as a background of the show.
Maria Helena de Senna Fernandes, director of the Macao Government Tourism Office, said it was the largest fireworks show in the territory over the past 20 years and had integrated many wonderful new elements and brand new cross-border cooperation ideas.
She noted that Zhuhai and Macao will further promote tourism and bolster the Guangdong-Hong Kong-Macao Greater Bay Area as a world-class travel destination.
Yang Chuan, director of the Hengqin New Area Administrative Committee of Zhuhai, one of the show organizers, said the joint event worked as a bridge to bring residents in the two cities closer in terms of cultural fusion and communication.
He expressed the hope that cooperation with Macao could be expanded.
"It's a useful trial to consolidate the advantages of both sides, deepen the mutual understanding and accumulate experience for more large-scale cooperation in culture and tourism in the future," Yang said.
Hengqin, located on an island in Zhuhai, is next door to Macao. The 106.46 square kilometers region is expected to become a global tourism destination with a modern industrial system, green ecosystem and smart services after getting approval from the State Council in April.
According to local officials, the development of Hengqin will promote the moderate economic diversification of Macao and become a demonstration zone for the deep integration of Guangdong, Hong Kong and Macao.
Many were amazed by the spectacular fireworks show and expressed their excitement to reporters.
A woman surnamed Lee in Macao said its economy has grown markedly since returning to the motherland 20 years ago. She said the show has strengthened the feeling that Zhuhai is developing together with Macao.
"We are very lucky," she said.
Celebration events
Besides the fireworks display, many groups in Zhuhai and Macao have jointly held a variety of activities to mark the 20th anniversary of Macao's handover.
On Dec 7, the Zhuhai and Macao youth federations jointly held an unveiling ceremony for a memorial stone in a park in Zhuhai, a symbol for the friendship of the youth in both cities and to inspire young people there to pursue new dreams.
Alex Mok, head of the Macao Youth Federation, said at the ceremony that the construction of the Guangdong-Hong Kong-Macao Greater Bay Area and Zhuhai-Macao cooperation provide the biggest development opportunity for young people in the two cities.
"We will lead the young people in Macao to understand our motherland and get involved in the development of the Bay Area as the 20th anniversary of Macao's return now becomes a new starting point," Mok said.
On the evening of Dec 8, more than 1,000 young students from Zhuhai and Macao staged an evening party-in diverse styles including dances, choruses, martial arts and instrumental performances-to narrate the stories of Macao's return and integration with the country's development and the growth of Macao and Zhuhai.
On Dec 14, the General Union of Neighborhood Associations of Macao and the women's federation of Xiangzhou district of Zhuhai put a musical film online to showcase links between the people of Zhuhai and Macao, as well as their close relations. On Thursday, several youth federations in Zhuhai and Macao organized young people from both sides to stage flash mobs at a couple of iconic venues.
Complementary growth
Given its proximity in geographical location and emotional intimacy to Macao, Zhuhai has been doing what it can to meet what Macao needs and prioritizing coordinated development with Macao in terms of rules, industrial synergy, space expansion and livelihood collaboration.
In order to support moderately diversified development of Macao, Zhuhai has explored ways to keep consistency with Macao in terms of rules and regulations.
For example, Zhuhai has had trials in the fields of cross-border offices, cross-border finance, schooling of children of the Hong Kong and Macao professionals working in Zhuhai, practices of physicians from Macao in Zhuhai, opening the social security system on a trial basis for Macao residents and cross-border legal services.
The local government focuses on six industries to meet the development demands of Macao. It comprises technological innovation, finance, healthcare and professional services as well as culture, tourism and exhibition.
Zhuhai will expand the space for manufacturing, living and promote ecological protection for Macao to solve its problems of land shortage and high development costs.