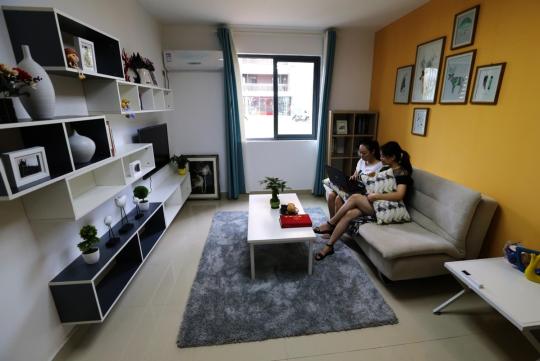 Tenants relax in a leased apartment in Wuhan, capital of Hubei province. (China Daily/Zhou Guoqiang)
More than 85 percent young tenants in China prefer sharing an apartment to save living cost. The rental for a bedroom grew by 10 percent on average across the country in 2019, a report showed.
Beijing recorded the highest rental this year – over 2,000 yuan ($285) for a bedroom, followed by Shanghai, Hangzhou and Shenzhen, with average rental between 1,800 to 2,000 yuan. The most preferred size of a bedroom was 18 to 20 square meters, according to a recent report by Baletu rental research institute of online rental service platform Baletu.
Top three factors that influenced young tenants' selection of rooms were rental, transportation and safety, the report said.
With the rise of online platforms, more young people are selecting services online. Data from Baletu showed about 73 percent young tenants signed the contract within three days after checking the information on the app, while in traditional offline transaction, it took as long as 14 days.
Besides, over 80 percent young tenants only visited the apartment twice before signing the contract, the report showed.
Gao Meng, director of the research institute, said housing rental business has great potential in China in the long term, which needs further improvement of services and regulation.