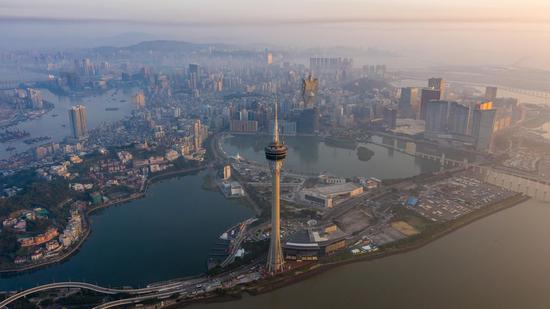 Aerial photo taken on Nov. 18, 2019 shows the Macao Tower, Sai Van Lake and Nam Van Lake in south China's Macao. (Xinhua/Cheong Kam Ka)
Special: 20th Anniversary of Macao Return to Motherland
At 8 a.m. local time, when most Macao residents just wake up for their day, Lei Zhen already left his home at Estrada de Cacilhas (Road Cacilhas), eastern Macao Peninsula for his company in neighboring city of Zhuhai.
One hour later, he arrived at his office at Zhuhai National Hi-tech Industrial Development Zone, where he had set up Zhuhai Nanometals Technology to develop nano flexible transparent conductive material.
Graduated from School of Material Science and Engineering, Tsinghua University, Lei chose to set his startup in Zhuhai, a city not far from home and supportive to his career.
"The life in Macao is quite similar with other Chinese cities, in terms of daily life, food and culture. Macao SAR government has many policies to support startups, but it's better to set up the lab and manufacture base in Zhuhai," Lei said.
Lei has been a member of Macao Young Entrepreneur Incubation Centre for years and received legal, financial and operational assistance for his nano products. He had won innovation champions in regional and national contests, and a world champion of 2018 Alibaba Startup Contest.
However, he found that Macao's business environment is not suitable for high-tech manufacture. "Thanks to the development of Guangdong-Hong Kong-Macao Greater Bay Area (GBA), I have more choice and room in Macao and Zhuhai as a converging area."
The development plan for Guangdong-Hong Kong-Macao GBA issued by the central government in February said the GBA will establish 12 service centers for Hong Kong and Macao's young entrepreneurs to start their business and innovation.
Governments of Guangdong Province and Macao SAR held a meeting in May this year and decided to form a task group to support Guangdong and Macao's young startups with promotions and resources.
From July 1, Zhuhai has included Macao residents who currently live in Zhuhai's Hengqin District into its medical insurance policy.
In July, Dongguan, a Guangdong city adjacent to Shenzhen, has issued new policies in its Songshanhu Hi-tech Zone for Hong Kong and Macao talents, including incubation center, intellectual property protection, business partner matching, and housing.
Macao student Ng Hoi Ching is now a sophomore in School of Journalism and Communication, Renmin University of China. She chose an incubation center for young startups in Guangzhou for internship this summer, as a product operator in a smart system company.
"The GBA has many institutional innovation, such as Macao residents can participate in health and social insurance, or apply for civil servants in Guangdong Province. There is much room for my future, which attracts me a lot," she said.
In Zhuhai, his company can access to all beneficial policies and regulations designed to encourage startups and high-tech innovation, and most importantly the strong supply chain in Guangdong Province, a hub of China's manufacture industry.
Ng Hoi Ching is one of 45 Macao participants in 2019 Macao Youth GBA Internship Program, hosted by Guangdong Province and Macao SAR governments this summer. They went to incubation centers in Guangzhou, Zhongshan and Zhuhai for two weeks' internship, a taste for opportunities in GBA.
Li Huiyin was born in Guangzhou and moved to Macao since primary school. After 10 years experience in Macao's startup business, now she has a fashion magazine and a traditional Chinese clothing brand.
"Macao's high level of social welfare and income make it very hard for startups to hire local talents. The GBA gives me hope that the metropolitan network can provide ideal resource, such as sufficient employees, broad market and production partner."
Li's brand, Macao's Good Time, has taken its root in a shop near Macao's tourism icon Ruins of St. Paul, selling traditional Chinese clothing and related products. Her brand had been selected into Macao's delegation to participate in the first and the second China International Import Expo held in Shanghai in 2018 and 2019.
"After the opening of Hong Kong-Zhuhai-Macao Bridge, I expect the human resource would flow more easily, and that is the future of Macao startups," she said.