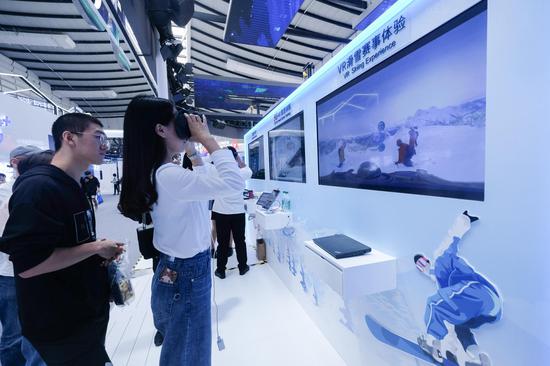 A visitor tries virtual skiing via a VR device at the Light of the Internet Expo Center in Wuzhen, east China's Zhejiang Province, Oct. 19, 2019. (Xinhua/Xu Yu)
Special: 6th World Internet Conference
Rashid Galadanci, an entrepreneur from New York, is showing a mobile app for assisted driving to visitors at the Light of Internet Expo, a side event of the 6th World Internet Conference held in Wuzhen, eastern China's Zhejiang Province.
Combining computer vision and artificial intelligence (AI), the app allows users to make a video recording of their trip and receive alerts when they are at risk of hitting another car or pedestrian.
Galadanci said as an exhibitor at the expo, he was also attracted by other cutting-edge technologies showcased there.
"China's AI technology is developing fast, and I hope to find Chinese partners at the expo," Galadanci said.
The expo attracted more than 100 overseas exhibitors from 37 countries including Russia, Germany, the United States, France and Japan. The number of overseas exhibitors has increased by 30 percent from last year, showing its growing international influence.
The size of China's digital economy grew to 31.3 trillion yuan (about 4.4 trillion U.S. dollars) in 2018, accounting for 34.8 percent of the nation's gross domestic product. Many foreign enterprises are seeking opportunities and cooperation in the area.
Alvin Ng, Asia-Pacific vice-president and general manager of digital solutions at Johnson Controls, a multinational corporation dedicated to smart building business, said the company values the Chinese market and has set up more than 100 branches, eight manufacturing plants and three research and development centers in China.
"We hope to cooperate with Chinese companies in the fields of artificial intelligence, cloud computing and Internet of Things to integrate into the ecosystem of China's digital economy," Ng said.
According to a report from GSMA, an international association in the mobile industry, China's 5G connections will account for about one-third of the world's total by 2025.
John Hoffman, CEO of GSMA, said at a forum held during the 6th World Internet Conference that China is taking a leading role in 5G technology and application.
If you are a technological entrepreneur or an investor hunting for the next unicorn company, China will certainly be a good choice, Hoffman said.
German software and cloud giant SAP is increasing its presence in the Chinese market.
Sam Li, global senior vice president and managing director of SAP China, said the company hopes to foster cooperation between China and Germany in the area of industrial internet, which will help facilitate China's high-quality growth.