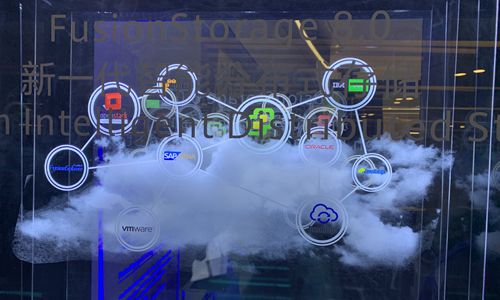 Photo: Huawei's FusionStorage 8.0, distributed storage to support enterprise applications (Photo: Chen Qingqing/GT)
Chinese tech giant Huawei Technologies unveiled a new cloud database powered by artificial intelligence (AI) technology on Wednesday, a move to accelerate its full-scenario AI strategy and challenge US rivals including Amazon, Microsoft and Oracle.
Huawei launched the world's first AI-native database called GaussDB in Beijing, which supports diversified scenarios such as private and public clouds and data services in sectors, including finance, internet, logistics and automotive. The company also unveiled FusionStorage 8.0, claimed to be the world's first distributed storage to support enterprise applications.
The database storage market has been dominated by foreign players, particularly US firms such as Oracle and Microsoft. By joining the battlefield, Huawei has broken the monopoly of foreign players and shown its "crisis awareness" toward developing core technologies in case the US blocks high-technology exports, some analysts said.
"Huawei is well positioned to scale its cloud business outside the telecom world into enterprise… it's already gaining traction in China and it can scale in other markets outside China, such as India, Southeast Asia, the Middle East and Africa," Neil Shah, research director of global industry consultancy Counterpoint Research, told the Global Times on Wednesday.
This will put it in front and center to compete against established cloud players such as Amazon AWS, Microsoft Azure and others, he said.
Data security is crucial to database storage business. A Huawei executive said the company is also following higher standards, compared to its counterparts, in protecting data.
"Our database products have been widely used in many countries and by various customers in industries," David Wang, executive director and chairman of the company's investment review board, said at the launch event in Huawei's Beijing headquarters on Wednesday.
In terms of data security, Huawei has been following stricter rules in protecting user data. "We only provide technologies to support data processing and transmission, and we do not own the data," Wang said.
"Some have confused this technical issue as an ideological issue, and labeling a country or a company a national security risk will not help tackle the global network security challenge," he added.
So far, Huawei's GaussDB and FusionInsight big data solutions have been deployed in 60 countries and regions, serving over 1,500 customers, the company said.
Huawei's participation in the database market also provides new choices for other companies, setting a positive example for the whole industry in China, as the cloud and Internet of Things (IoT) sectors grow rapidly and generate tremendous need for data storage and processing.
"From chipsets to operating systems to servers, Huawei has been widely investing in core technologies and strengthening its competitiveness, which will lower the possibility that it will face obstacles if the US blocks technology exports," Xiang Ligang, director-general of the Information Consumption Alliance, told the Global Times.
However, the company's executive emphasized that Huawei joining the database market is not intended to replace other companies.
"The cloud and data industry needs joint efforts and broader collaboration. We're not going to replace Oracle or SAP as the industry needs cooperation for future prosperity," Wang told the Global Times.