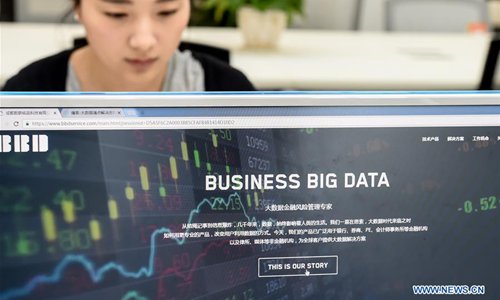 A staff worker logs in a business big data website in southwest China's Guizhou Province, May 16, 2017. The 2017 China international big data industry expo will be held in Guiyang at the end of May. (Xinhua/Ou Dongqu)
China's big data sector has the largest number of employees in the world, or 59.5 percent of the global total, followed by the US with 22.4 percent, domestic news site cet.com.cn said on Monday, citing an industry report.
Value creation applications of big data have extended into many sectors in China, including government affairs, retail, transportation, medical treatment, education and public governance, the report said.
The US has played a leading role in the big data industry in the research and development of technology and related services while China has excelled in applications, Liu Dingding, a Beijing-based industry insider, told the Global Times on Monday.
As China is endeavoring to advance the innovative development of the big data industry with the Internet Plus initiative, rich data resources have been accumulated and companies have thrived in the sector, so there's rising demand for related talent, Liu said.
Although China has the largest number of employees in this sector, there is still a relatively large talent gap, the report said.
Employment of this group of talent only accounted for 0.23 percent of China's total working population, while the US figure was 0.41 percent. The figure in South Korea was 0.43 percent, in Finland it was 0.84 percent and Israel reached 1.12 percent, the report said.
In a bid to close the gap, professional education plays a vital role, Liu said, noting that although some universities offer big data courses, further steps such as cooperation with companies should help potential workers quickly adapt to their roles.
Also, authorities are expected to roll out favorable policies such as tax breaks to make it easier for people to enter the industry, according to Liu.
The government manages about 70 percent of the high-value databases, the report said, noting that the share and opening of big data held by the government will be vital in realizing the comprehensive share and opening of data and better give play to its value.
For instance, Chengdu, capital of Southwest China's Sichuan Province, set up a special big data department to promote the development of the city's big data industry, according to media reports. As of April 10, the public data platform had opened 604 databases and more than 30 million items of data.
The value of the global big data market stood at $42 billion and the big data software market is valued at $14 billion, according to media reports.