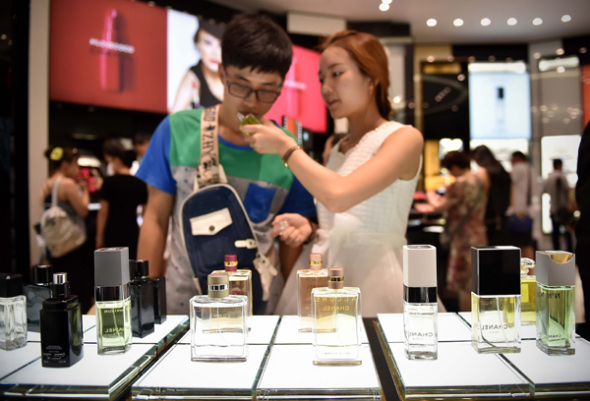 Tourists buy perfume at a duty-free shop in Sanya, Hainan province. (Photo/Xinhua)
The development of Hainan into an international free-trade port heralds a new stage of the reform and opening-up of the Chinese economy as the island boasts the potential to compete with other international ports such as Hong Kong and Singapore, experts said on Monday.[Special coverage]
China's central authorities has announced a grand plan to build the country's tropical resort island into a pilot international free-trade zone and a major port with the new policies that are expected to boost investment and growth in a wide range of sectors including agriculture, tourism, finance, sports and entertainment.
The country also intends to experiment with new businesses such as horse racing and sports lotteries on the island, with hopes of turning it into a top international tourism destination and consumption hub.
The new measures will also support the development of international cruise operation, and will loosen yacht regulation and allow foreign investors to set up show business agencies in Hainan.
Experts said that there is much to expect from Hainan as a free-trade port represents the highest level of opening by international standards and it would mean that most goods and services are subject to very low or even zero tariffs.
Chi Fulin, president of the China Institute for Reform and Development, said that Hainan enjoyed advantages such as the island's large geographic area and abundant local resources that no other existing free-trade zones on the Chinese mainland can compare to.
"Compared with Hong Kong and Singapore, Hainan will utilize its own resources to develop. I think it will have a late-mover advantage with a relatively faster development pace," Chi said.
The development of Hainan's free-trade port will focus on service trade, which is in line with the country's service and consumption-drive growth model, and the new policies will encourage innovation and entrepreneurship, which will create more jobs, increase incomes and bring tangible benefits to local residents, he added.
Xu Hongcai, an economist with the China Center for International Economic Exchanges, said the development of Hainan has strategic importance for the country's overall development and the new plan embodies policy innovation that is necessary for the next round of reform and opening-up.
"It is an updated version of the country's reform and opening-up, and some of the measures are far bolder than previous policies," Xu said.
Xie Xiangxiang, an associate professor at the School of Tourism of Hainan University, said that turning the entire island into a free-trade zone is a powerful starting point for Hainan to become a leading international tourism and consumption center.
Xie pointed out that the biggest challenge currently facing Hainan is a lack of talent, so the province needs to boost its education and training quality in order to catch up.