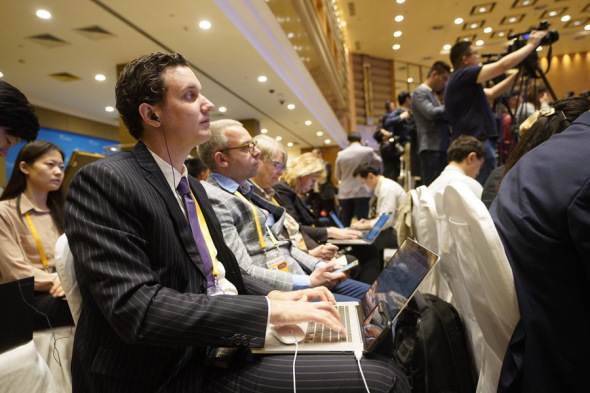 Foreign reporters attend the opening ceremony of Boao Forum in Boao, Hainan, on Tuesday. (Photo/Xinhua)
China showing commitment to role as leader, forum told
British experts have welcomed China's commitment to continue with the reform and opening-up of its markets to allow more foreign access, which President Xi Jinping highlighted in his keynote address at the Boao Forum for Asia 2018 annual conference on Tuesday.[Special coverage]
They said Xi's speech shows China's policy consistency, its willingness to contribute toward global economic growth, and its commitment to be a responsible global power.
"Xi's speech has been an important marker in terms of China's opening-up of its markets," said Rana Mitter, director of the University of Oxford China Centre. "At a time when the language of trade war is being used, it is important for leaders to say clearly that the opening up of markets and mutual trade are important."
Xi stressed that China does not seek a trade surplus and has a "genuine desire" to increase imports, highlighting the first China International Import Expo to be held in Shanghai this November as evidence.
"It is not just another expo in an ordinary sense, but a major policy initiative and commitment taken of our own accord to open up the Chinese market," Xi said.
He added that China will this year significantly lower the import tariffs for vehicles and reduce import tariffs for some other products.
Erik Berglof, director of the London School of Economics' Institute of Global Affairs, said Xi's speech reflects a confidence from the government in recognizing that many parts of the Chinese economy, including the automotive industry, are now ready for more open policies.
The year 2018 marks the 40th anniversary of China's reform and opening-up policy, a process that has significantly integrated China into global trade flows and consequently fueled its economic miracle.
Xi said China will continue this journey of reform and opening-up, which serves not only China but also "meets the global trend toward development, cooperation and peace".
Catherine McGuinness, policy chairman for the City of London, said this commitment from Xi "indicates a wish for China to be a global player, one that understands the importance of working with other countries for the benefit of the entire global economy".
She said this commitment is consistent with steps China has already taken in recent years to increase market access. In particular, she highlighted China announcing in November that it was allowing for the first time foreign financial companies to hold controlling stakes in joint ventures as a key example of a benefit to the global community.
"As President Xi says, opening brings progress, while closure leads to backwardness. In order to reap the benefits of development, innovation and a better life for everyone, a country must truly open its doors to the world.
"President Xi, and the people of China, fully understand this, and everything we are hearing shows that the country is heading in this direction," said McGuinness.
Existing plans
Jinny Yan, chief China economist at ICBC Standard Bank, agreed, adding that Xi's speech was consistent with China's existing plans to further its reform and opening up, instead of being distracted by short-term US trade tensions.
"The cost of derailing domestic economic growth is far greater to China than the immediate cost of a trade war," Yan said. "This means China's main priorities remain pushing forward with planned reforms in order to keep growth stable."
Meanwhile, Xi said China will "stay as determined as ever" to build world peace, contribute to global prosperity, and uphold international order.
Mitter said this commitment is consistent with China's responsibility as a great power, and its ability to be a powerful force on economic and security matters.
"Both the United States and China have a strong responsibility to act as great powers - that is, understanding that their actions have consequences well beyond their national boundaries. A world where the United States and China cooperate on regional security, climate change, and international trade is essential," said Mitter.
Berglof said China's best option to contribute toward upholding international order is "through deep engagement with the rest of the world community and ensuring that it does so in a transparent and collaborative manner", especially when it comes to international projects such as the China-proposed Belt and Road Initiative.
"By genuinely engaging with international institutions and foreign partners, it could contribute to bringing economic and broader institutional development to countries which, until now, have not seen much of either," said Berglof.