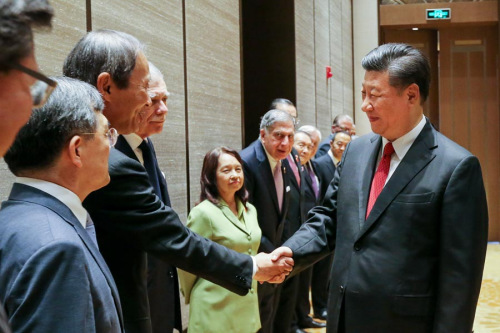 President Xi Jinping meets with current and incoming members of the board of directors of the Boao Forum for Asia on Wednesday in Hainan province. The president had many kind words to share about the forum. (Photo/ CHINA DAILY)
Countries around the world should hold to the principles of openness, inclusiveness and cooperation in dealing with challenges like a lack of economic demand and trade protectionism, President Xi Jinping said on Wednesday.
Xi made the remark in a meeting with current and incoming members of the board of directors of the Boao Forum for Asia, who gathered in the city in Hainan province for their annual conference. [Special coverage]
The president hailed the importance of the forum in building consensus, encouraging cooperation and building a community with a shared future in Asia since its inception 17 years ago.
Established after the 1997 Asian financial crisis, the Boao Forum for Asia reflects the consensus of Asian countries to band together to cope with challenges, and it aligns with the need for integrated development of the regional economy, Xi told the directors.
Attendees at the conference recognized the necessity of following the trend of our times and promoting reform and innovation as the world undergoes a new round of development and profound readjustment, the president said.
In the face of challenges posed by a lack of impetus in economic growth and trade protectionism, attendees said the principles of opening up, inclusiveness and win-win cooperation should be upheld and concerted efforts made to create a better future for Asia and the world.
Leaders of all countries should make plans for future generations and long-term development, Xi said.
China will stick to its path of peaceful development, uphold a mutually beneficial and open strategy and push to build a new type of international relations with mutual respect, justice and cooperation, Xi said.
China will continue to expand cooperation, push to create a community of shared future for mankind and build a peaceful, safe, prosperous, inclusive and beautiful world, he said.
China will continue to push forward with the Belt and Road Initiative, establish new platforms for international cooperation and increase driving forces for common development, Xi said.
As the host country of the Boao Forum, China will provide more space for its development, Xi said, adding it is hoped that the forum continues to support China's development and play a positive role in promoting common prosperity.
The conference was themed "An Open and Innovative Asia for a World of Greater Prosperity".
On Wednesday, Xi also met with former Kyrgyzstan president Almazbek Atambayev on the conference's sidelines.
China and Kyrgyzstan have made some achievements in the early period of cooperation on the Belt and Road Initiative, which has great significance for the economic and social development of the two countries, Xi said.
China would like to make joint efforts with Kyrgyzstan to build relevant projects and upgrade their shared cooperation to a higher level, he said.
Atambayev said Xi made an excellent speech on Tuesday.
Atambayev expressed gratitude for China's support of Kyrgyzstan's economic and social development.