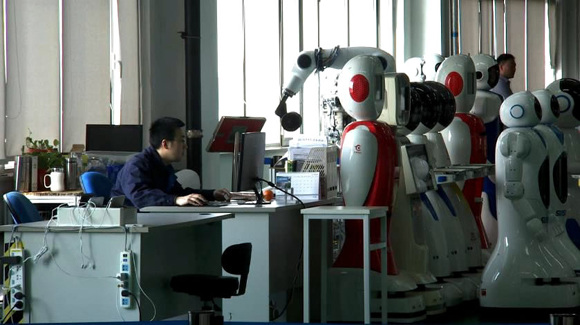 (Photo/CGTN)
Under the theme "An Open and Innovative Asia for a World of Greater Prosperity", the Boao Forum 2018 opens this weekend in south China's tropical Hainan Province. In recent years, Chinese companies have been shifting towards innovation and exporting high-quality products that meet the rigorous standards and expectations of global consumers. The development of artificial intelligence (AI) and robots signals a dramatic change in the manufacturing sector. [Special coverage]
Athletes weren't the only attraction at the 2018 Winter Olympics, 24 robots danced to the rhythm during China's eight-minute show at the closing ceremony, causing a sensation in the world of robotics. Head of the design crew, Zhang Lei, once thought his brief was mission impossible.
"The organizing committee and my team were completely stunned when the director of the eight-minute show revealed the maneuvers he wanted the robots to perform. We had only two to three months to prepare everything from scratch," said Zhang Lei, the head of the design crew from Siasun Robot & Automation Co., Ltd.
The eight minutes in PyeongChang showcased how much China's intelligent manufacturing has progressed in recent years. In northeast China's Shenyang, a city that boasts the country's largest robot production base, more of its products are being deployed to the service sector. While these robots are mainly having a positive impact, in the reception of one local electricity center, the manager points out some areas where there's still room for improvement.
"Sometimes, the robot gets confused in noisy surroundings. It can mix up the orders of different people. Other than that, it is doing well, considering the service requirements and the amount of information it provides to the customers," Ju Shibo told CGTN.
How do you determine how advanced a country is when it comes to robotics?
One measure is "robot density," which shows the number of robots per 10,000 workers. Robots are at the core of the government's sweeping "Made in China 2025" plan to upgrade factories and make them highly automated. The country wants to reach a robot density of 150 units by 2020.
The increase in robot density in China is the most dynamic in the world, particularly between 2013 and 2016. The density rate rose from 25 units in 2013 to 68 units in 2016. Beijing intends to forge ahead and get China into the world's top ten automated nations in just two years.
"It's a realistic target, as labor costs are rising in China, pushing up the cost of manufacturing. Also, production techniques for robots continue to improve, which in turn makes the robots more cost-effective," said Wang Kecheng, a manager of the company.
The "Made in China 2025" plan aims to move the country's manufacturing sector up the value chain, but some argue the level of automation required is several steps ahead of China's current level. If domestic robot manufacturers hope to fill the gap, they will no doubt face fierce global competition.