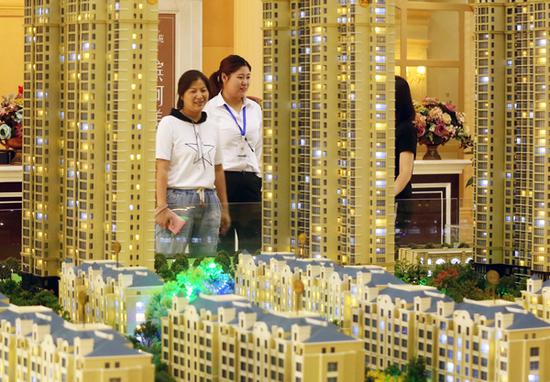 A saleswoman (center) talks with customers at a real estate sales office in Huai'an, East China's Jiangsu province. (Photo/China News Service)
The country's housing sector is becoming more rational as the property market continued to cool down in November, said experts.
According to data issued by the National Bureau of Statistics, the nation's property market remained stable last month as local governments continued to battle speculation.
Newly built commercial properties in first-tier cities edged up 0.3 percent in November compared to October, while secondhand property prices eased by 0.4 percent.
Among China's 70 major cities, five-Tianjin, Xiamen, Shenzhen, Jinhua and Wenzhou-saw prices drop for new properties in November compared to October.
Last month, 17 of the 70 cities saw a decline in secondhand property prices including Beijing, Shanghai, Guangzhou and Shenzhen.
"Prices for secondhand properties in 10 major cities have been decreasing for two consecutive months, and prices in the 70 cities have also seen significant change," said Zhang Dawei, chief analyst at Centaline Property Agency Ltd.
"It was the first time seeing this in four years," he added.
Zhang predicted that over the next few months more cities will see cheaper secondhand properties, and new properties might also follow such a trend.
Property research site Anjuke said the November numbers demonstrate a gradually stabilized market trend, though drops were relatively sharper in major markets.
The number of properties sold in Guangzhou last month decreased by 34.9 percent from October, while Beijing and Shanghai also saw 14.3 percent and 13.9 percent drops, respectively.
Zhang Bo, chief analyst at Anjuke, said amid the backdrop of stable policy, demand for properties in China has become more rational as more people decided to buy homes for living rather than for speculative purposes. But he didn't think the recent cooling down meant a prolonged slowdown.
He said that according to Anjuke's research, 51 percent of homebuyers don't think the government will implement further policies to tighten housing prices, which meant both the consumption side and the property industry were becoming more rational.
Land supply in first-tier cities was another solid sign that it is too early to talk about a prolonged market slump, said Zhang, as he noted the slow growth in the country's land supply to the property market in November.
Li Tie, director-general at the China Center for Urban Development, believes there are more ways to bring down housing prices than simply tightening policy.
"With a population of 1.4 billion, it is absolutely normal to see high housing prices in Beijing and Shanghai," he said, adding that the biggest problem in the country's ongoing urbanization process was unbalanced public resource distribution, and there was huge potential in the country's urbanization efforts.
He said more solutions can be applied to curb prices such as developing surrounding areas and improving the transportation infrastructure.