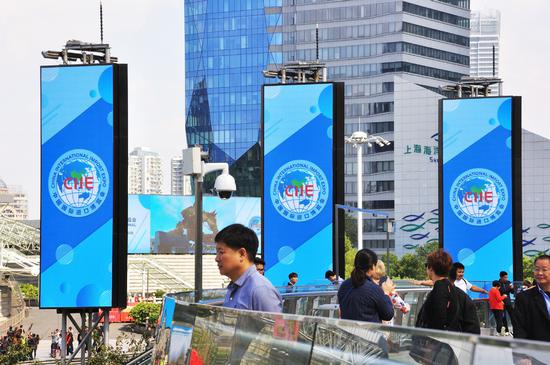 People walk past signs for the China International Import Expo in Shanghai's Lujiazui area. (Photo provided to China Daily)
Shanghai Customs District is making final preparations for the China International Import Expo, which will open in the city in just over two weeks' time.
The General Administration of Customs released four rules in June regarding clearance regulations, facilitating policies, and inspection and quarantine for the CIIE.
Responding to the central regulator, Shanghai Customs District has introduced a total of 13 guidelines to specify the procedures of exhibitions, and the detailed entry regulations for exhibits which will go through compulsory verification, according to Huang Yuming, deputy commissioner of the Shanghai Customs District.
A 200-metric-ton milling machine made by German manufacturer Waldrich Coburg, the largest exhibit at this year's CIIE, arrived at Shanghai on Oct 11. With the facilitating policies and preparatory work conducted in advance by Shanghai Customs, the $3.16-million machine received its customs clearance in two minutes, according to the local customs.
A total of 92 commodities and goods windows have been set up in the exhibition halls to improve the clearance speed during the show. Meanwhile, a cross-border trade management big data platform has been set up to link the inspection data at the customs and statistics at the exhibition halls in order to provide clearance services to the exhibitors throughout the whole process, said Huang.
A customs clearance service will be available at booth B303, and companies will be able to complete entry and exit clearance procedures for their exhibits at the show.
Besides, the platform has integrated the registered information of exhibitors and exhibits to generate digital certificates for goods entering Shanghai during the CIIE. In this way, the goods will be able to register and go through approval online, which will help to significantly reduce the clearance time.
The platform will also extend the data service to the delivery period by sending the goods' shipping bills and certificates to the ports in real time. Companies can arrange to take the delivery of goods in advance, making it possible for the goods to be delivered immediately when they arrive at the ports. Therefore, there will be major savings in terms of logistics and time, said Huang.
"The CIIE will be an important opportunity for us to explore big data inspection methods. We will adopt a digitalized, smart, convenient and intensive management mode to facilitate the show," he said.
The CIIE, the world's first national-level expo focusing on imports into a certain country, will be held in Shanghai from Nov 5 to 10. More than 2,800 companies from 130 countries and regions will participate in the show. Meanwhile, 39 buyer groups of more than 150,000 people will join the expo. The total exhibition area will cover more than 30,000 square meters.