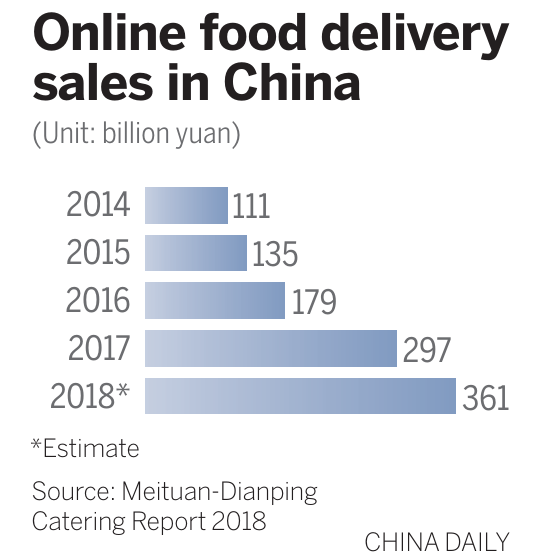 5b0603dca3103f68b65ca86d
Zhou Huan, a 25-year-old worker from Beijing, said the ringing of her doorbell makes her particularly happy these days. Three times a day, it means meals are being delivered to the gate of her apartment.
A total of 300 million customers like Zhou ordered food online last year, meaning that one in five Chinese relied on delivery services, which have grown explosively in China. A majority of customers ordered through popular apps.
The size of the Chinese online delivery market exceeded 297 billion yuan ($46.5 billion) last year-representing annual growth of over 65 percent-and was expected to exceed 360 billion yuan in 2018, according to the Meituan-Dianping Catering Report 2018, released on Tuesday. The report was produced by the giant online buying service Meituan-Dianping and Restaurant Owners Internal Reference, an industry advisory publication.
The convenience and time-saving nature of the services was particularly popular with people 20 to 30 years old, who placed 65 percent of the orders last year.
Experts say there still is quite a bit of room for the industry to grow.
"The online delivery sector is burgeoning, but the integration rate of the total catering sector with the internet remains low, especially compared with movie theaters, where 80 percent of transactions are done online," said Zhang Chuan, senior deputy president of Meituan-Dianping. "That means that the Chinese delivery industry still has great potential waiting to be explored in the coming years."
Daxia Laile, a chain of crawfish restaurants, has seen its business take off since it started deliveries on its own and through other services in 2015, said Dai Jinsheng, its founder.
Such orders "make up 60 to 70 percent of our total business", Dai said. "In some peak seasons, the sales volume for online delivery can hit 3 to 5 million yuan per month, which is three to five times larger than our offline business."
Giant restaurant chains from home and abroad, like McDonalds and Quanjude, a traditional Peking duck chain brand, have seen their delivery business expand quickly.
The report said more than half of orders came from residential areas, followed by schools, office buildings and hotels.
"Online delivery hasn't replaced dine-in. Instead, it has met people's growing need to eat meals at home without cooking them," said Qin Chao, CEO of Restaurant Owners Internal Reference.
Expanding delivery services, however, pose a challenge to some traditional industries like instant noodles.
Industry reports have continued to show the sales of instant noodles, once the bedrock of China's convenience food, decline drastically in recent years. Industry experts credited the decline to the proliferation of choices that consumers have with the rise of online food delivery.